The global software market is growing at a steady pace – up 7.4% each year. Moreover, considering there are 27 million developers in the world, by 2030, there will be more than 45 million.
Do you have the feeling that it's getting harder and harder to promote your products? The bad news is that it won't get better. 
The competition is increasing, industry giants are taking up most of the traffic, and it the chances of creating something unique become slimmer. However, it doesn't mean that you should leave IT, slamming the door behind you, because of all these challenges. There is $580 billion circulating in software development, and if you market your product wisely, you can still jump on the bandwagon. In this review, Contenteam will cover the best tactics in content marketing for SaaS.
Challenges in Promoting Software Products
Let's start by discussing why many companies don't succeed in promoting their product.
First, it's not an easy niche. Sowaftre or application development is not cheap. Also, the market is full of free alternatives, and it's no surprise that users love freebies.
Here are a few other common challenges for a SaaS content agency:
The idea carries the main value of the product, but it is almost always very easy to copy.
Software has a long sales cycle – first, consumers test a trial version and only then decide to buy (or hesitate, which happens much more often).
Continuing the previous point, it's not that difficult to attract downloads, but only experts with a fearless mindset can motivate people to pay for a program.
IT is complex, making it hard to describe the benefits of the program in a clear and accessible way.
Secondly, many people don't have a proper promotion plan. But chaotic campaigns don't succeed. You need to think it over even before writing the first line of code – assess the market, competitors, demand, and prospects. And that will help you come up with a product that solves specific user problems and does it better than similar programs.
SaaS Marketing Strategy: The Steps
If you are determined and audacious, you can move on to creating a marketing strategy. Write down the following points and discuss them with the team:
Market assessment: players, scale, demand. For example, post scheduling software for social media has huge competition, plus, the platforms already have free official tools. But when it comes to high-quality text generators based on artificial intelligence, there are very few of them.
Target audience analysis and segmentation: determine who needs your software and why. Divide the target audience into several groups, create portraits of ideal customers for each group. Here is an

example

.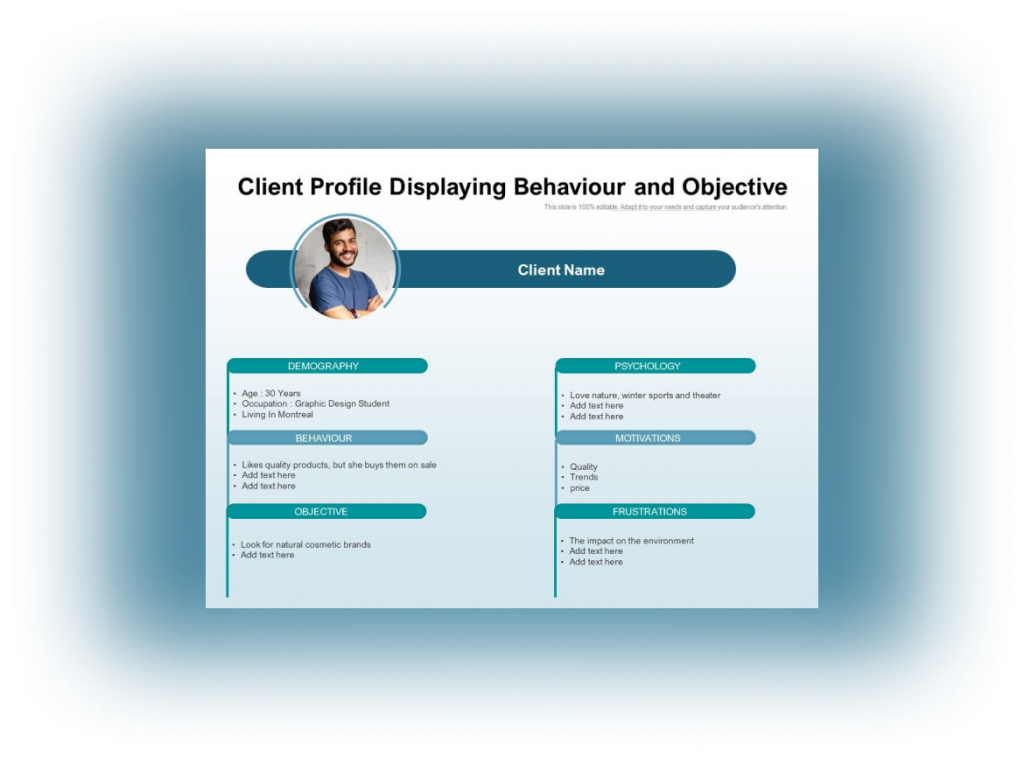 Positioning: create a unique selling proposition, or a USP, list competitive advantages, and develop a corporate identity. For example, HubSpot markets itself as marketing, sales, and service software that helps your business grow without compromise.
Marketing activities: decide how and where you will promote the program or application. This is what we'll cover in the next section.
22 SaaS Content Strategies for All Types of Products
There is no one-size-fits-all solution for promoting programs and applications: each niche and market has its own set of rules. But it still means that you can choose SaaS content marketing strategies from the list below and try them for your business. The success of IT companies often relies on these activities. 
1. Website
Before telling the entire Internet about your software, you need to lay the foundation – the official website. This is where you'll be sending traffic from other channels and convert visitors into customers.
Here is what you should include on the site:
A detailed and clear description of the product: what it does, who needs it, what problems it solves.
Social proof: logos of famous brands that use your program, customer reviews, ratings on other sites, recommendations from thought leaders.
Rates: list the prices in a comparison table. Many companies reduce prices for long-term subscriptions to increase customer retention.
Guarantees: why is it safe to download your program? How will payment processing work? What if I don't like the product?
Information: a blog, FAQ, instructions, case studies, and any other additional resources that will help to make a purchasing decision and understand how the product works quickly.
Contacts: contact customer support; a section for partners and applicants if necessary.
Call to action: usually, it's a button offering to download a trial version, leave a request to access the service, or learn more.
To increase chances of your site's being successful, make your designs look professional, use less text but ensure it's powerful and convincing, add visuals – videos, infographics, software screenshots, etc.
Let's look at the example of a post scheduling service called Later.
First screen. The team shows what their program looks like, states their USP in the title, and talks about their capabilities in two sentences. The call to action is strengthened by guarantees: free forever, set up in minutes, no credit card required.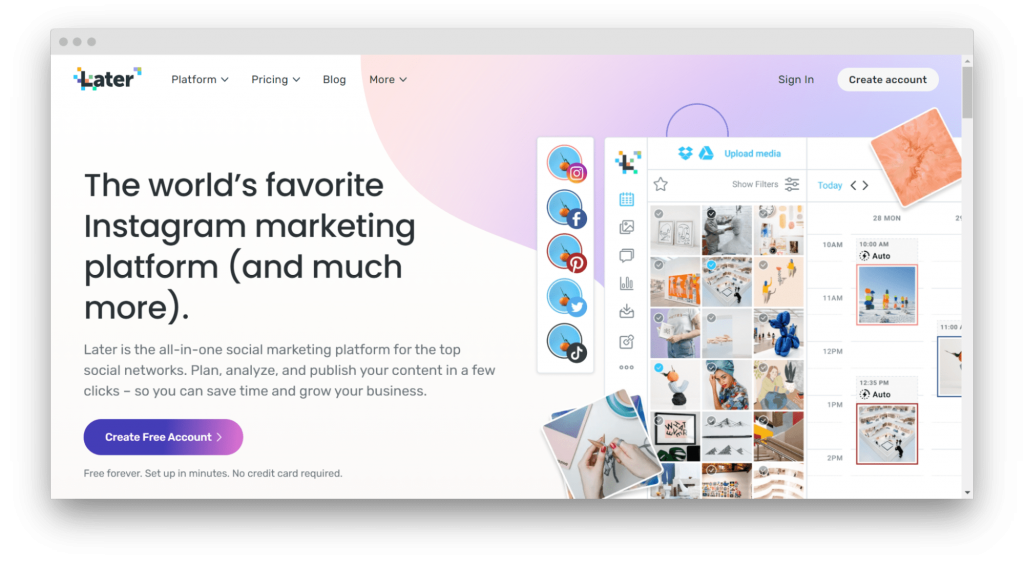 Second screen. If a visitor is hesitant about creating an account, social proof and benefits will come into play.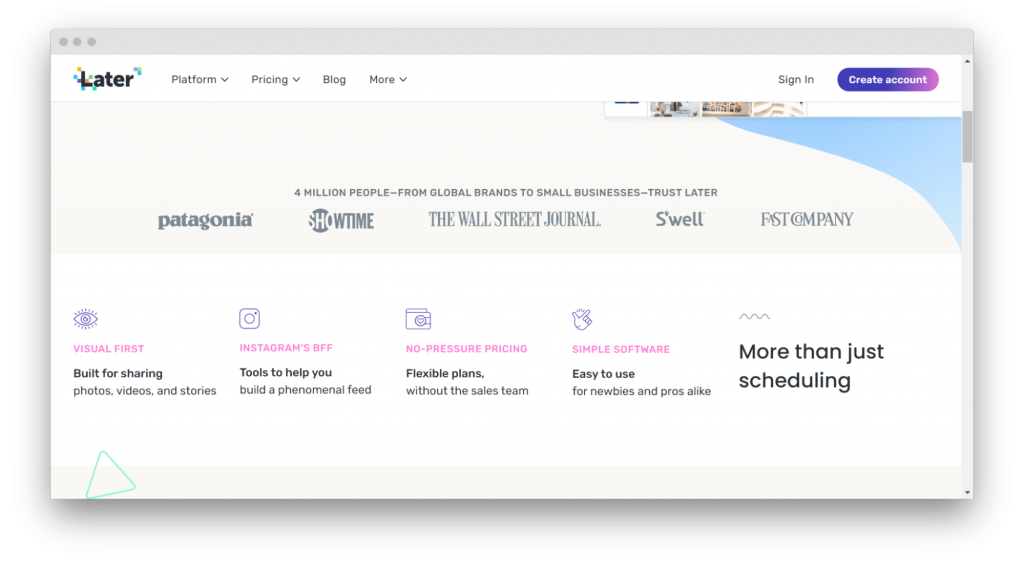 Third-sixth screens. Here, the team describes the functions in more detail to make sure the user is fully convinced that this software is a useful solution for their problems.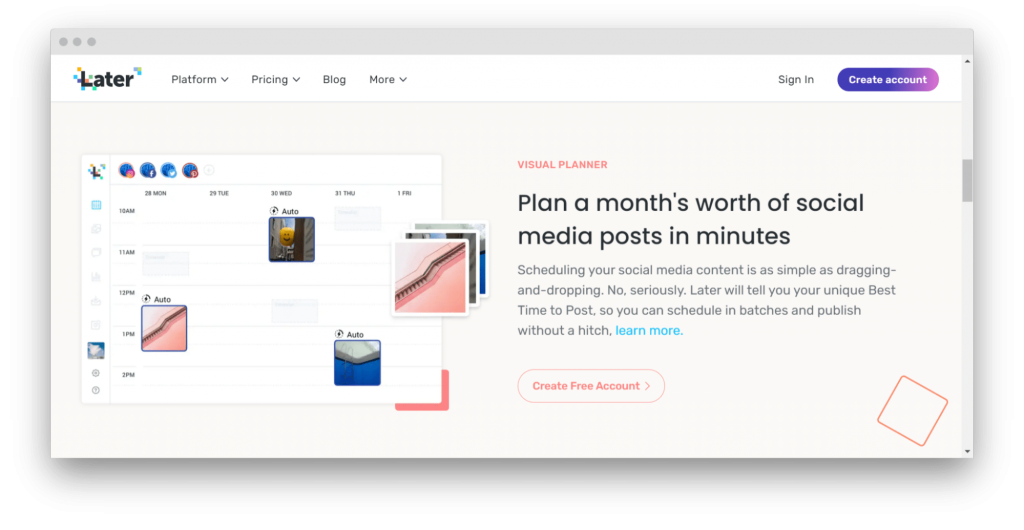 Seventh screen. Testimonials from happy customers to get rid of any doubt.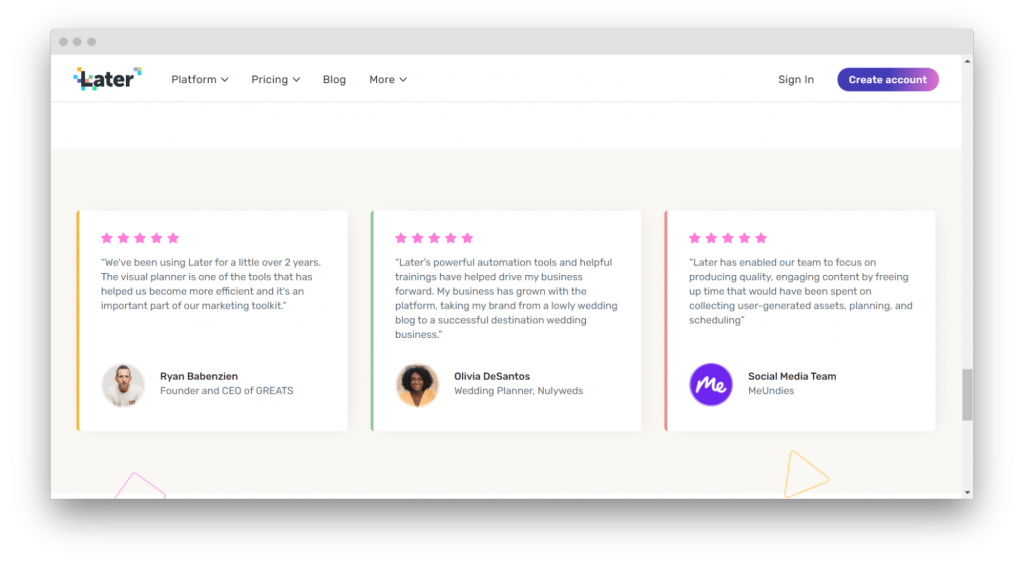 Eighth screen. They list guarantees once again and attach a call to action.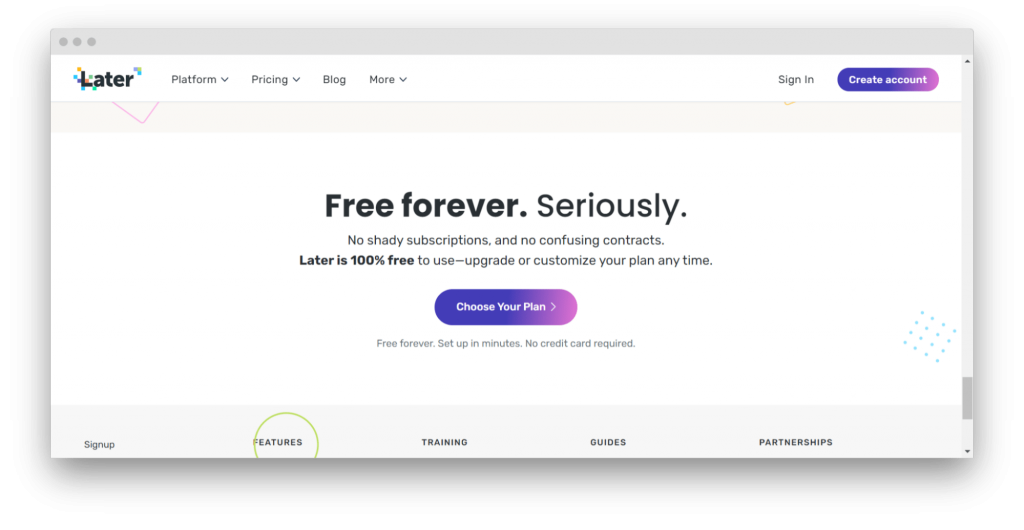 The site also has a blog, resources for training, contacts of the support, courses, an About Us page, and a section for partners.
2. Mobile App Stores
Now that you have a website that does part of the selling, move on to attracting traffic from external sites. The first step is to register in application stores: Google Play, App Store, Microsoft Store, and others. This is where most users download new software for their devices.
How to promote in app stores:
Learn the requirements of the site and write a description according to them.
Add keywords to the text to rank in search results for your target queries. If your brand is still getting little attention, optimize the page for searching by function: tracking expenses, losing weight quickly, removing the background, etc.
Collect downloads and reviews. These metrics are very important for ranking. At the initial stages, you can ask friends or pay users that download the app – you can find them on freelance exchanges. However, don't resort to cheating if you don't want to find yourself banned.
Add external promotion. Run

SaaS advertising

, promotions on social media, and working with influencers.
3. Industry-specific Portals
If your SaaS marketing plan is not for applications, you can post on other portals where people download software. The main idea is the same: design the page, optimize for search engines and work on activity and engagement on the page. Here are some options: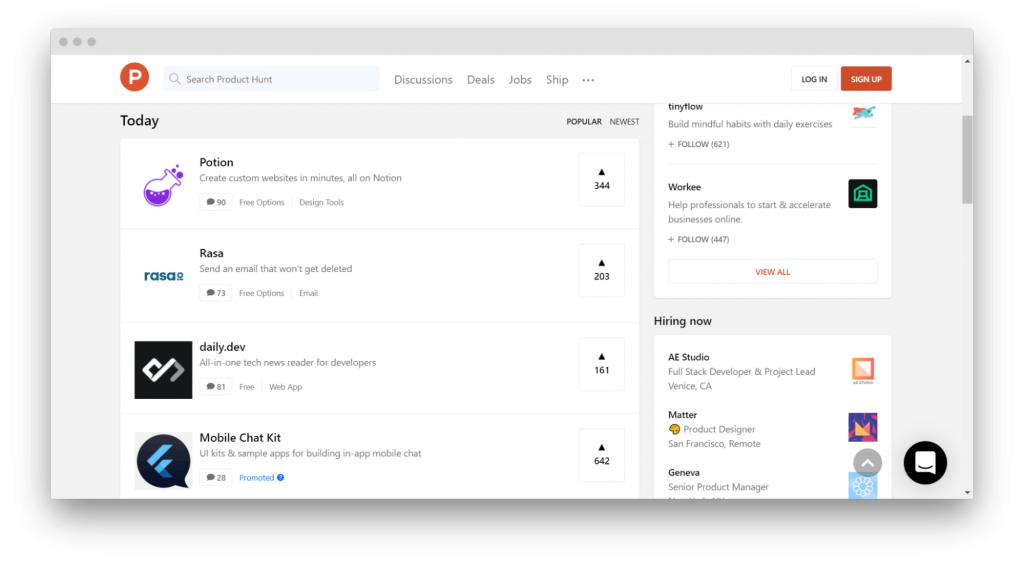 You can also come into the spotlight on popular platforms where developers talk about their products:
Check if your niche has online portals, media, or directories that other companies use to promote software. Contact them and clarify the terms of cooperation.
4. Crowdfunding
Crowdfunding is not only about raising money for a project. Products that become popular on such sites often become hits outside of them and get picked up by the media.
You should definitely include this channel in your strategy if your program solves an important consumer problem and with no worthwhile equivalents.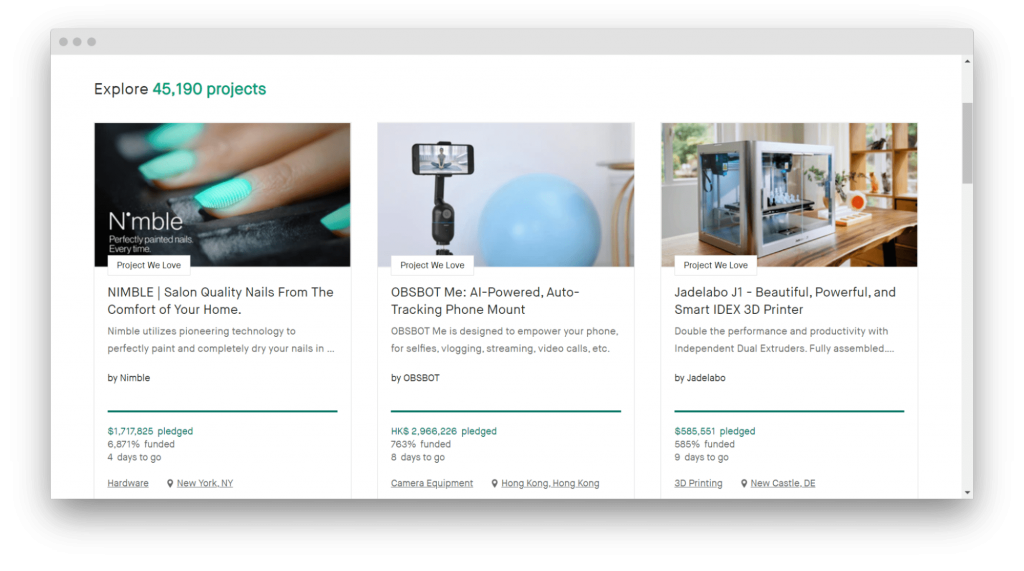 Several leading sites are:
5. Search Engine Optimization
You've made a statement about yourself, now let's move on to promotion. SEO won't bring instant results but will provide long-term growth of the project's recognition. There are three directions to focus on:
The technical side: page speed, clean code, navigation, robots.txt and sitemap files, meta tags, markup.
Content optimization: keywords, LSI, formatting, text volume, internal linking, reading experience.
Links: Organic link building from reputable sources.
6. Contextual Advertising
If you run ads in search engines, you can reach top positions in the SERPs the same day. However, it's not cheap: $1-$2 per click on average.
You can launch a campaign through:
Produce creative content, customize keywords, and start driving paid traffic to your website or app store product page.
7. Expert Blog
Software is difficult to display. You can't try on a program or take a picture of it, but what you can do is write about it in an interesting way. This is why an expert blog is a win-win tool for promoting software.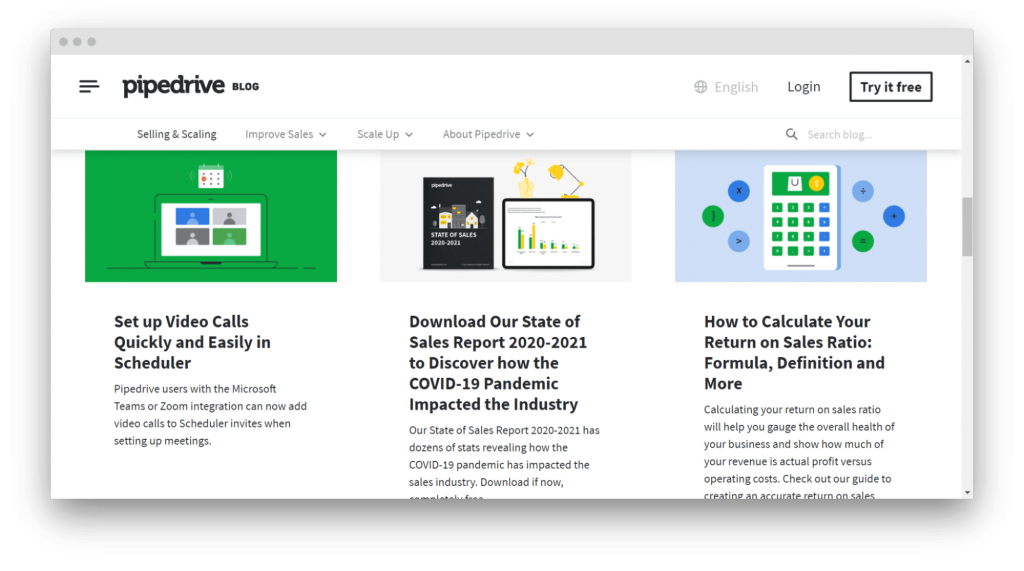 Here is what you can write about:
Product updates
Comparison of your solution with competitors' products
Answers to user questions
Instructions – how to solve a specific problem using the program
Instructions for beginners and best tactics
Alternatives for popular applications (yours being the first on the list)
Interviews with clients
Material on adjacent topics: reviews of industry trends, guides, collections of ideas, research. They will strengthen your position as an expert
Case studies
Downloadable detailed documents (for example, white papers), which will help to collect contacts of potential customers
Make your blog and search engine optimization go hand-in-hand for better results.
8. Social Media
Take a look at the most popular apps worldwide: 7 out of 10 are social networks or instant messengers. People already spend half their lives here, so why not use these channels to promote new technologies?
Study audience preferences and find out where your potential customers are active the most. Register and design profiles and start promoting them with content, targeted ads, and public and blogger promotions.
Social media is also great for collecting feedback, user-generated content, and customer support.
9. Landing Pages
In the beginning, you created portraits of ideal customers. Chances are you made several very different profiles because a single product can be used to solve different problems. You will increase conversions by reaching out to each of these groups with a unique content marketing solution.
For example, Unbounce offers different solutions. 
For SaaS: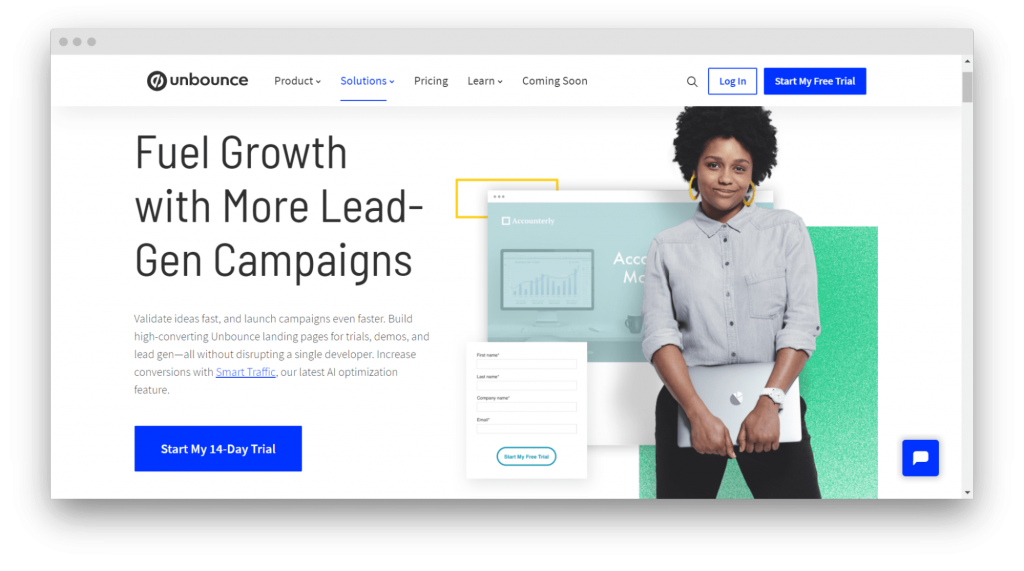 For ecommerce: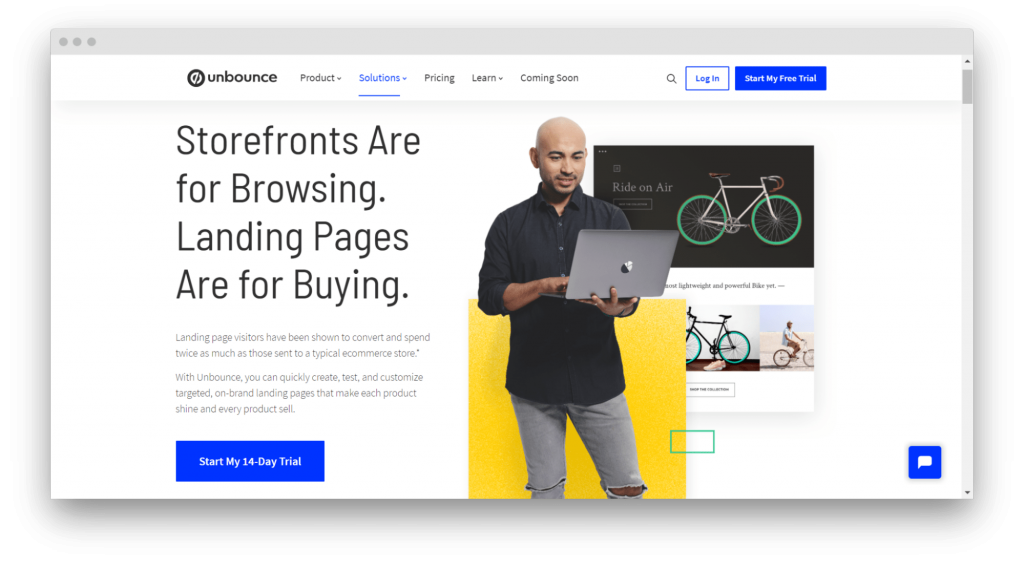 Create a landing page for each profile. Here is where you can get traffic:
ads
blog
expert articles on third-party sites
social media, etc.
This personalization will help the user understand that your product will definitely solve their problem.
10. Website Visibility
When it comes to converting a visitor to a client, you can't forget about the usability of your website and landing pages. After all, it's not only the relevance and quality of the product that drives a customer's decision but also the user experience. Here is what's important to consider:
Ease of navigation and site structure.
Breadcrumbs – links between different sections.
Ease of conversion. How easy is it to download the program or send a request for access?
Search. How quickly will the user find what they need?
The quality of site search.
Contacts information.
Convenient design. Usually, the simpler – the better.
Page speed.
Valid links.
Adaptivity for different screens and devices.
When you take care of the main things, you can run A/B testing for the color, layout, forms, visuals, etc.
11. User's Attention
If there is traffic but few downloads, try to work with keeping visitors' attention. Add pop-ups, blog post ad inserts, exclusive push emails, floating buttons, and live chats.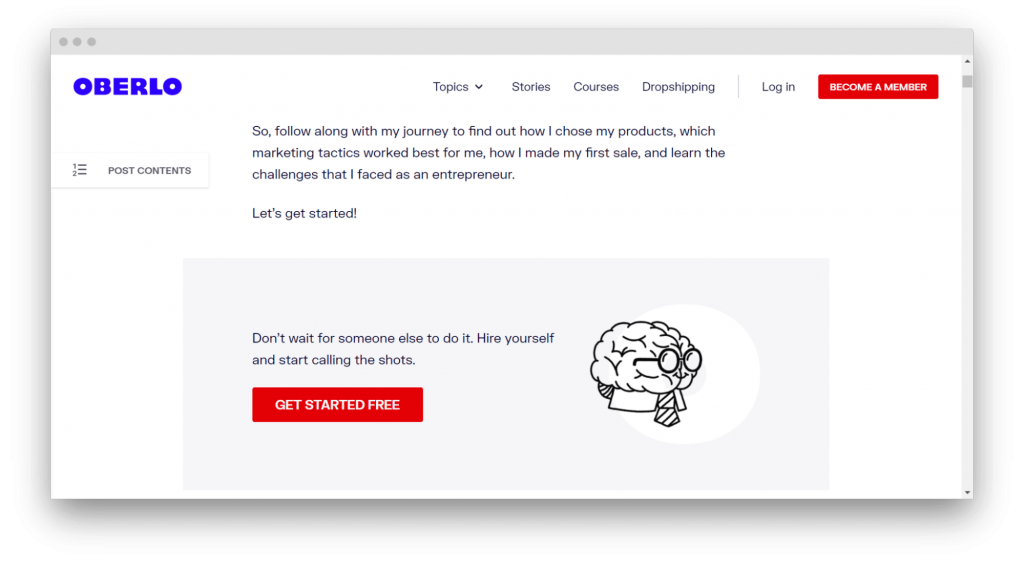 Make sure not to overdo it, otherwise, the user will quickly leave the site. Test tools gradually and observe the reaction.
12. Outreach
If you're already posting expert blog content, outreach can help you get even more value out of it. Reach out to reputable publications within your niche and offer to make guest posts with mentions of your product.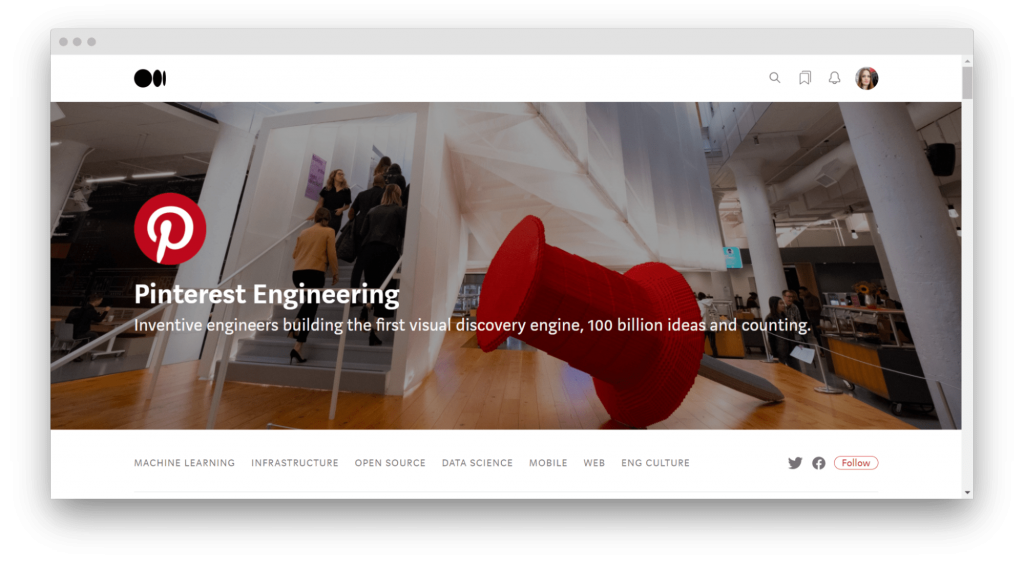 You can also keep track of program selection articles, contact the authors and negotiate to place a link to your service.
If it is technically possible, collect data using your software and turn it into an original study. The media is happy to publish this kind of content, which incidentally increases your brand reach and improves your site's rankings.
13. Email Marketing
Here is what can help you collect email addresses:
forms that visitors need to fill out to download the trial version
contact forms
account registration
downloadable detailed content
bonuses for registered users
You will need to segment the list of addresses and send out links to new materials, information about updates and promotions. But don't do this too often to prevent email from going to spam.
It's also very important to set up an automatic mailing list for new customers, which will help them understand how to use the program. This will extend the life cycle of your customers and reduce the number of returns.
14. Display Ads
This option is usually less effective than contextual advertising, but there is also a time and place for it. These are banners and videos shown on different websites.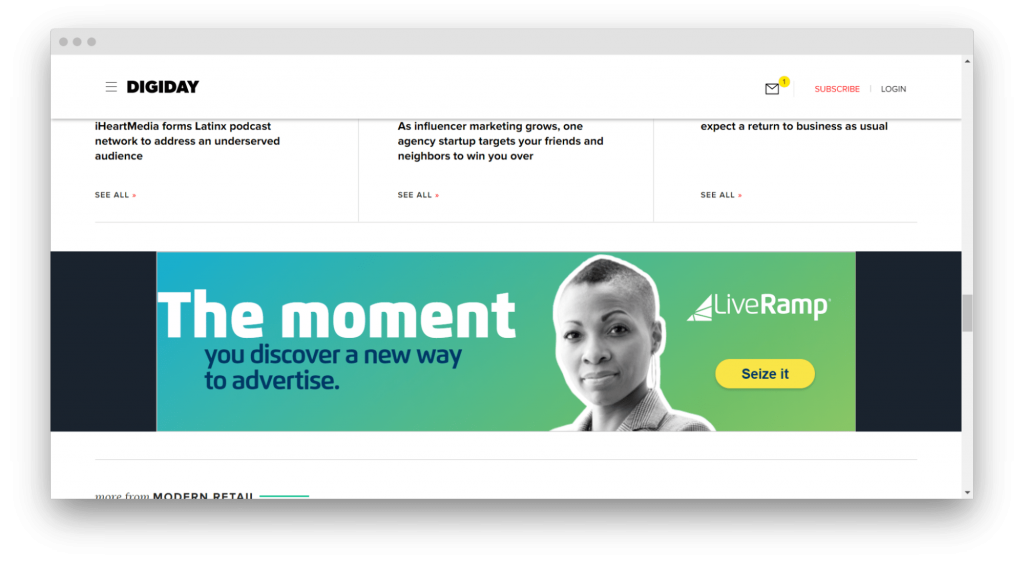 The best platforms for launching display ads:
15. Video
Videos are life-savers for marketers who are promoting sophisticated software. A visual demonstration shows how it works, the benefits, and motivates users to download and try the product – all in just a couple of minutes.
Add videos on your website and guest posts, but there is a lot more to it. Try YouTube, the second most popular search engine in the world, other video hosting sites (Vimeo, Dailymotion), and social media. Optimize your description to hit the SERP for the right search terms.
16. Demo
Let's face it: there is a lot of great free software on the market. And if you want to promote expensive software, you need a demo. Users will want to test whatever they'll be paying for.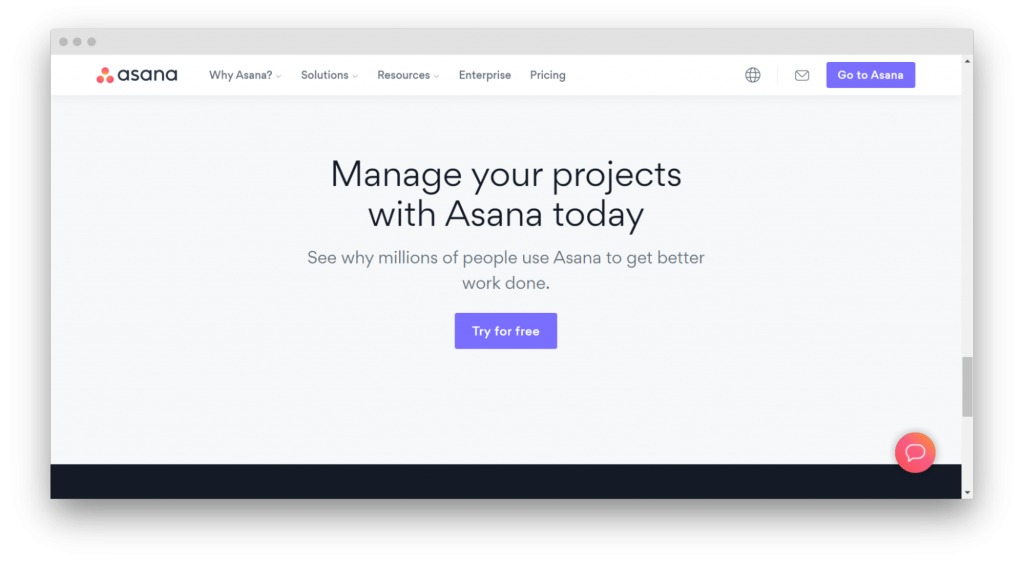 There are two common approaches:
Make all functionality available, but limit the time: 7 days, a month, etc.
Offer a limited free version and plans with additional features.
Choose the option that suits you best and direct traffic to the demo.
17. Affiliate Program
Offer a percentage of sales for promoting your software. Connect the affiliate program and remember to specify what promotion channels to avoid paying for low-quality traffic.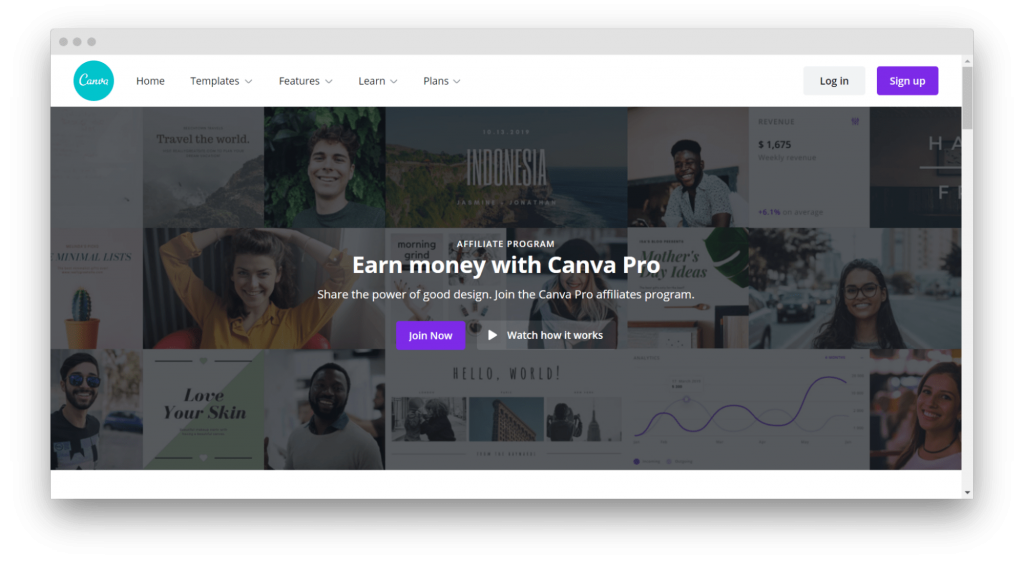 You can implement the approach on your own directly on your website (through discount coupons, for example) and through CPA networks.
18. Direct Sales
If you offer business software, you can implement direct sales. Find big industry players, make a unique proposal, and start the discussion directly. To make it more efficient, personalize all marketing materials and adapt to customer requests.
19. Events
Arrange themed events, invite experts, and as a side note, introduce your product to the audience. This can also be done as a traditional seminar and conference or as online events like webinars and live broadcasts.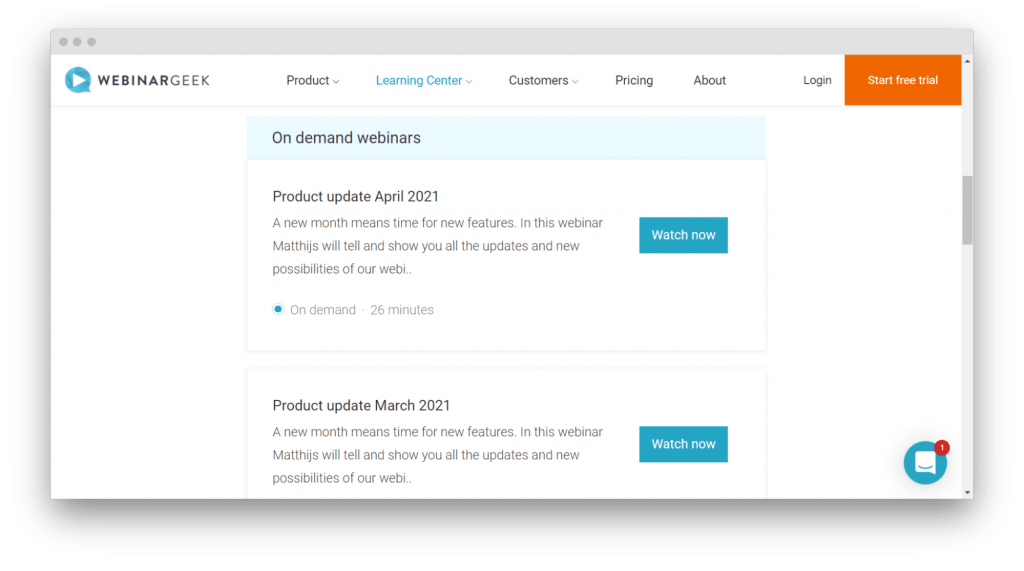 20. Early Access
Before the global product launch, gather a list of the most interesting clients (bloggers, experts, large companies) and invite them to test the software. Consider giving them free access. If they like the product, you will receive endorsements from thought leaders.
Ideally, if the use of the software is visible to others – you can make a new block on the website. Then the approach will definitely be beneficial.
21. Brand
Competitors can copy the idea, but if you build a strong brand, customers will still remain loyal to you. You will need:
Recognition – style, design, logo, colors, presentation.
High-quality experience – service, response time for new requests, convenience and usability, updates.
Brand building is not a separate strategy: it should become part of all your activities and communications with the audience.
22. Localization
Software usually has no geographic restrictions and can be useful to users anywhere in the world. High-quality software localization will help you expand your reach and grow several times faster.
Localization includes not only translating the interface but also all marketing materials: website, blog, landing pages, ads, etc. 
Contenteam has been helping clients as a SaaS content marketing agency for 8 years, and we know for sure that machine translation or freelance services don't have any benefits for your company.
In short
There are quite a few options for promoting software. Choose which ones suit your business:
creating a high-quality website for the product
uploading to app stores
registering on industry-specific portals
crowdfunding
optimizing the site for search engines
placing contextual ads to attract traffic quickly
maintaining an expert blog
promoting on relevant social media platforms
creating landing pages for different target audiences
improving site usability
making guest posts and doing PR
launching email campaigns
placing display ads
creating and promoting video
offering a demo
launching an affiliate program
doing direct B2B sales
holding events online and offline
offering early access to influencers
strengthening your brand's position
localizing the program and marketing materials
Are you looking for the high-quality promotion of an IT product with expert content? Send us a message, and our writer and editors will help you create export IT content for your brand. We look forward to chatting with you at your free consultation!