I'm going to spitball a few goals that I know you have for your website: backlinks from authority sites, a high ranking for important keywords, and loads of organic traffic. Did I guess right?
I thought so! This is pretty much what everybody wants for their website — so why are some sites successfully achieving these goals while others have to fight tooth and nail to bring in visitors?
The answer is simple: they have an evergreen content strategy.
Evergreen Content Meaning: SEO content that remains relevant to readers, no matter the season or year.
This kind of content gets its name from the evergreen tree: its leaves remain green and fresh, even in the winter! And so should your content; if your blog posts revolve around current events and seasons, you're missing out on loads of traffic!
This isn't to say that you can't publish holiday gift guides and the like, but I want to illustrate how evergreen digital content can reap longer-lasting rewards. So, read on to learn why you should be making these materials, as well as to get some of our top evergreen content creation tips!
Seasonal Content vs. Evergreen
Seasonal content is only useful during a certain time of the year — and because it's time-sensitive, there is less competition. It's a great idea if you want to create an immediate buzz and cultivate the impression that your brand is on top of the trends. Some examples of seasonal content include:
Breaking news
Limited-time events and promotion
Holiday topics
Seasonal events, like summer vacation or the NFL playoffs
On the other hand, evergreen content generates a steady flow of traffic to your website; what's more, because the information isn't constantly changing, it's easier to write about. There are tons of sources that you can research, and there's no pressing deadline for publishing. On the minus side, because it isn't time-sensitive, there is plenty of evergreen content about nearly every topic under the sun — meaning there is more competition.
Some types of evergreen content include:
Whitepapers and case studies
How-to guides
Listicles
Infographics
Product reviews
Glossaries
"History of XYZ" articles
Keep in mind that evergreen content examples are only applicable if they're about topics that never go out of date. For instance, a product review of a limited-edition pair of sneakers wouldn't be evergreen — but a review of a sneaker brand that's been in business for 30 years will be just fine.
You need to find the right balance of seasonal and evergreen content, and there's no one-size-fits-all formula. To find the right one for you, start with a 50/50 ratio, assess the results, and make adjustments as needed.
A Closer Look at the Benefits of Evergreen Content
Want to get the rest of your content marketing team on board with a shift towards an evergreen content blog? Just show them these benefits:
It generates more and more traffic over time. Evergreen content draws in new users long after it's published — months and even years down the road. And if it's an especially useful piece of content, readers might bookmark it and reread it in the future.

It goes hand in hand with social media engagement. Social media users often share content because they think it's relevant and valuable for their followers — and because evergreen content isn't time-sensitive, it fits the bill nicely.

It's easy to maintain. To increase its relevance, you can come back once in a while and add updates, but it's far more maintainable than seasonal content.

It generates plenty of natural, organic backlinks. Seasonal content could take a while to be noticed by bloggers and webmasters, at which point it could be outdated. Evergreen content remains relevant, so bloggers can share it whenever they find it, even if it's months or years after you published the material.

It can be repurposed for other marketing activities. For instance, you could use an evergreen blog post to create an infographic or even a video! There are also endless syndication opportunities: besides publishing the content on your website, you can upload it to Medium, Reddit, Quora, and so on.

It improves your site's overall SEO. Your evergreen material signals two things to Google: that your website has high-quality content and that you're getting organic backlinks. This is a great way to increase your Domain Authority.
Delving Into Evergreen Content Formats
Earlier, I mentioned a few evergreen content ideas, and now it's time to take a closer look. The great thing about this kind of content is that it's applicable to soooo many formats.
Cornerstone Content
This is the main content on your website and might take the form of a single page, an article, or several blog posts. It consists of the most important and highest quality articles on your website: the ones that are most relevant to visitors and that you want to rank highest on Google.
Typically, these are informative, fairly lengthy articles that break down a specific topic and pull in info from reliable sources. And the end goal is to welcome readers to your sales funnel.

List of Useful Services/Tools
This is especially great evergreen content for tech companies; you can compile a list of great tools and technologies that will help your readers in their personal or professional lives. For instance, you could share your top 10 picks for online form builders. Just be sure to review the content once in a while and remove services that are outdated (later on in this guide, I'll explain more about updating your content).
Infographics
32% of marketers use visual images as an integral part of their content strategy. And it makes sense; after all, infographics are visually appealing and a more efficient way of conveying key statistics, facts, and examples. What's more, you can base them on articles you've already published, so there's no need to do the same work twice.

How-To Guides
When most people want to learn how to do something new, they head over to Google. This can apply to anything: from something as simple as "how to fry an egg" to complex tech topics like "how to use AI in web development."
Figure out what kinds of questions your target audience is asking, and then create a step-by-step guide showing them how to solve the problem.
Whitepapers
White papers are typically published by B2B companies, especially within the IT space. Some goals of a whitepaper might be to educate potential customers, gather leads, educate channel partners, build credibility, and publish your own studies. Because white papers are almost entirely data-driven, they require more maintenance than other forms of evergreen content, as data is constantly evolving. But it's well worth the work: 71% of B2B buyers use white papers to help them make purchasing decisions.
"History Of" Articles
This type of evergreen content is pretty easy to maintain — after all, the history of a topic remains constant. All you have to do is add updates on occasion when there are new developments in the field. And you can easily write a "History Of" article on pretty much anything under the sun; because it's research-based rather than insight-based, you can even assign the text to a regular copywriter rather than a specialized IT writer. 
Step-by-Step Guide to Creating Evergreen Content
Creating evergreen content mainly involves finding topics that have consistent search traffic potential rather than ones that are trendy. Here's what to do:
Step 1: Conduct Keyword Research
Evergreen content is valuable — but only if it's acquiring and maintaining a traffic flow. And to acquire that traffic, you need the page to rank high on Google. And, as SEO 101 tells us, keywords are what make our pages visible to search engines.
You likely know all about keywords already, but the question is: how do you pick ones for evergreen content? There are four things you'll need to do.
First, brainstorm seed keywords. In this step, you're coming up with evergreen topics that are interesting and relevant to your audience. If you're a tech company, your audience isn't just looking for IT industry news. They might also want to learn terms related to software development, view guides on how to choose a dev company, or compare programming languages. So, let the ideas flow — write down whatever comes to mind, and make sure the ideas are diverse. You can always save topics for later.
Next, you'll need to get inspiration for seed keywords. Check out competitor sites, read forums to see how people are phrasing their questions and use tools like Semrush and Ahrefs.
After that, it's time to analyze the seed keyword relevance. It's not worth your time to write about topics that aren't steadily relevant; after all, that's the antithesis of evergreen content. Instead, run the keywords through Google Trends and verify that the interest remains stable.
Here's an example of what a stable keyword will look like on Google Trends:

And here's an unstable one:

Both of those keywords are measured across a 5-year time period; one has huge peaks and valleys, while the other has a much flatter line.
Lastly, when choosing the keywords, you'll need to gauge their potential. Is it worth the effort? Perform a keyword audit on a tool like Ahrefs, and check the search volume, clicks, and return rate (RR). Ahrefs even has a handy tool that estimates how many backlinks you'll need to rank in the top 10 results on search engines!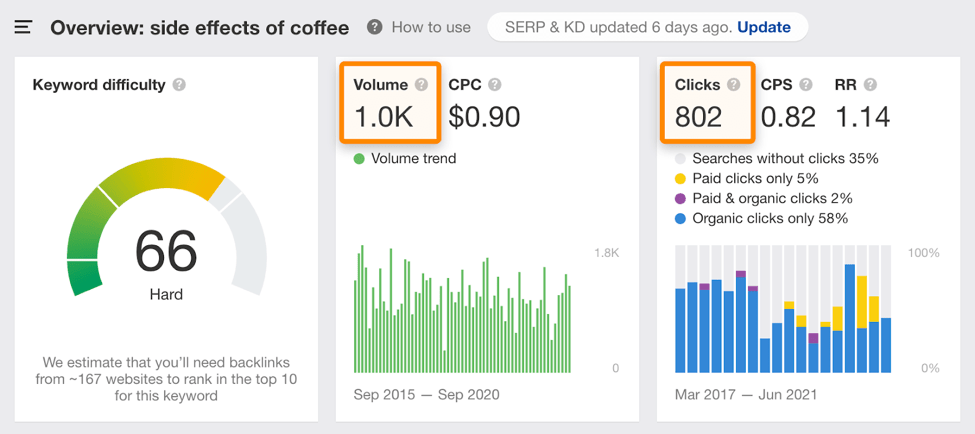 Step 2: Create the Article Structure
Now that you've selected your keywords, it's time to pick an article structure that's best able to answer the searcher's intent. I mentioned a few evergreen article formats earlier, but you aren't limited to those; just make sure that the format makes sense.
Here are some examples of matching intent with structure:
| | | |
| --- | --- | --- |
| Keyword | Intent | Relevant Structure |
| Get custom fintech software online | Transactional | List of services |
| How to make software in Python | Informational | Step-by-step guide/Infographic |
| AI in healthcare | Informational | Whitepaper/ "History Of"/Case Study |
Step 3: Write the Article
I don't really have any special tips for you in this section that are specifically tailored to evergreen writing — but if you need a crash course on writing for a tech audience, I recommend checking out some of our guides:
By the way… all of those articles are examples of evergreen content! 😉
Step 4: Publish the Article
You've reached the finish line! Hit the publish button, monitor your rankings, promote your content, and make updates if needed. More on that next!
Evergreen Content Advice From a Pro: How to Highlight It for Maximum Effectiveness
After publishing your brand's evergreen content, don't let it get buried amid other articles on your website. If you want to get good results, you need to promote the content so that it's immediately visible to your site visitors. Here are a few ways to do this:
Make a "Start Here" page for your website; such pages contain useful tutorials for visitors, and it's a great place to list your best evergreen posts.

Create a homepage banner or sidebar section that highlights your evergreen content.

Integrate your evergreen content into your social media campaign.

Update your evergreen posts once in a while, so they make it back to the top of your blog page.
Now, I want to take a closer look at that last point: everybody should be updating their evergreen content on a regular basis. This doesn't require a crazy amount of work; rather, you can add a couple of links to new, relevant studies, summarize this year's current findings, and so on.
For instance, if you're a tech company, certain pieces of technology might become obsolete — so if outdated tech is mentioned in an article, add an italicized note to the beginning of the article. In the note, you could explain that the tech is no longer current and mention its replacement. Make sure to include the publishing/update dates.
Example: Let's say you're a tech website that published an article on the best Windows antivirus apps. But one of your picks has gone out of business… You would need to remove the app from the list, possibly replacing it with a different one, and then make a note that looks like this:


Update: Our former pick, ABC, is no longer available. So, we've decided to update our list and add XYZ instead. This article was originally published September 2018. Updated December 2021.
Updating your content in this manner has great SEO benefits, and it's constantly being pushed into search results. So, if you notice that your content has dropped in search ranking over time, it might be due for an update.
The last thing I want to leave you with is a quick checklist for updating your articles:
Review the title and update it if needed.

Remove outdated information and add updated information.

Include a note about the update on the top or bottom of the article (I prefer placing it at the top).

Double-check that the new section matches the tone of voice of the rest of the article.

Fix any broken links and replace outdated images.

Update internal links.

Update the CTA, if needed.
And there you have it! That's really all you need to know about creating and maintaining the best evergreen content. Remember: seasonal content can definitely be useful and generate buzz, but evergreen is a more solid backbone for generating long-lasting traffic.
If you want to get SEO-optimized evergreen content for your blog, reach out to Contenteam! We are a full-fledged editorial team: simply tell us your goals, and we'll conduct keyword research, choose a structure, write the article, proofread/edit it, and send it to you. All you have to do is wait for the traffic to come in and reap the benefits.
Interested in getting content for your IT or Fintech company? Just fill out the contact form
below.
What is evergreen content?
Evergreen Content is SEO content that remains relevant to readers, no matter the season or year.
What makes content evergreen?
Evergreen content is filled with information that remains stable in relevancy. This generates a steady flow of traffic to your website; what's more, because the information isn't constantly changing, it's easier to write about. There are tons of sources that you can research, and there's no pressing deadline for publishing.
Why is evergreen content effective?
There are lots of ways it's effective: it generates more and more traffic over time, it's highly shareable, it generates lots of organic backlinks, it's easily repurposable, and it improves your site's overall SEO.