Much ink has been spilled over the "quality over quantity" debate. But quality and quantity don't have to be mutually exclusive in content marketing – in fact, you probably need both. Numerous case studies show that the quantity of content can be a clear predictor of web traffic growth. Meaning, the more you publish, the more traffic it drives. But the quality has to be there. 
The idea of bulk content production doesn't have to turn into a trade-off between content quantity and quality. Whether you are an SEO specialist launching a new website with numerous content-rich pages, a marketer arranging a partner program to monetize your project, or anyone else looking for high volumes of content, we have your back. With a few tweaks, you can have the best of both worlds.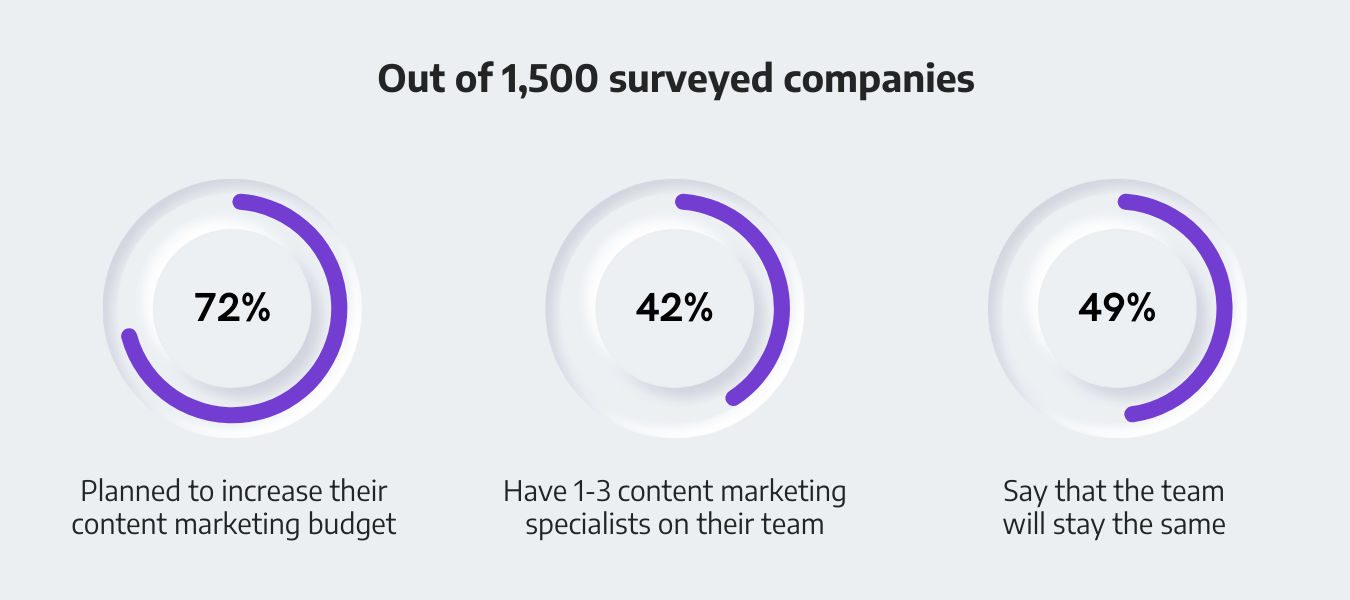 Companies want to double down on content production but don't plan to increase the size of their marketing team. Who will do the writing then?
Out of 1,500 surveyed companies, 72% planned to increase their content marketing budget in 2022. However, 42% of these companies have only one to three content marketing specialists on their team, and 49% say it will stay the same. 
So, companies have the resources to produce content in bulk but no teams to handle the planned increased production. 
At Contenteam, we've managed many high-volume projects. And we want to share our experience and insights we've developed along the way – here is how to create in bulk!
Characteristics of a Bulk Project
Without dragging out the introduction, let's quickly identify what constitutes a bulk project. Of course, no two projects are the same, but most of them do have overlining characteristics: 
High volumes of content

Quick turnaround time

Consistent quality and tone 

Requires a team of writers

Usually produced with search optimization in mind
Bulk content production can take a number of forms, depending on what the client needs and their marketing strategy. Here are the most common categories of batch content: 
Blog articles

Location-specific web pages

Product or service descriptions 

Social media posts for multiple platforms

Newsletters
How to Write a Brief for Quality Content in Bulk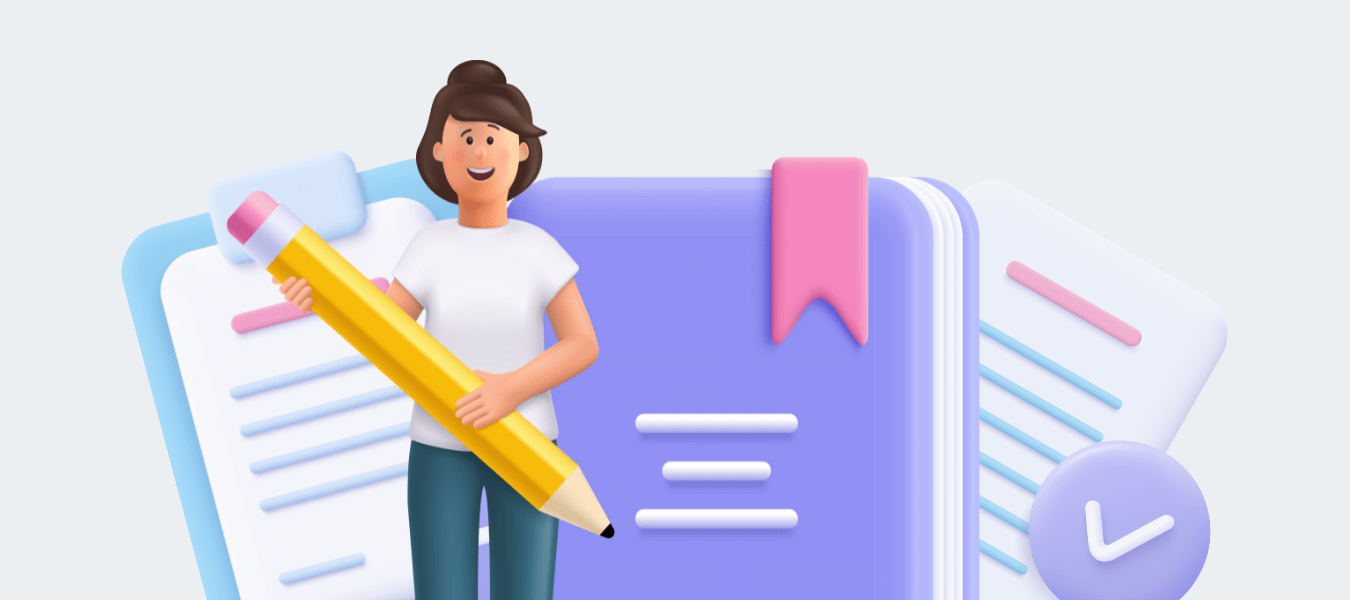 With tens of thousands of words written per week, you need to make sure writers and editors have everything they need in the content brief. 
What should be included in the brief (+ a tip for each item): 
Client description

– No matter how many articles there will be, each should tie back to the client and their strategy. 

Target audience

– Make sure writers think about whether what they're writing makes sense to the reader.

Content purpose

– Educate/motivate/other? 

Buyers' journey stage

– Explain where the piece fits in the marketing funnel. 

Brand style and tone of voice

– Formal/informal/assertive/humorous/etc.

Topic

– Mention that the writer can change the suggested title and headings.

Word count

– It's okay if writers slightly go over or under the required volume. 

SEO keywords

– Mention that keywords should be evenly spread across the article.

Article outline

– To avoid misunderstandings, write a sentence or two explaining what you expect from each section. 

References

– Add as many as you want and consider specifying what exactly you like in competing articles. 

Deadlines and milestones

– Don't make it the same day that you promised to the client. Take into account all subsequent steps (editors, experts, proofreaders)
Other recommendations: 
​​Cluster key queries

with as much detail and specifics as possible. This will help you avoid publishing different articles with the same collection of keywords – essentially, turning your website into its own competitor. 

Ask writers to write meta tags for the article

(title + description). It's important for copywriters to understand that they are writing not any type of text but content for a website. With this small move, you'll engage them in on-page optimization.

Give guidelines for illustrations

– Do you want them drawn from scratch? If not, how and where should the writer get them? What parts of the texts should be illustrated? 

Revise the brief and incorporate the edits

. After you receive feedback for the first batches of texts, include new suggestions in the brief to avoid repetitive edits. 
Any divergences from the brief must first be discussed with the client. 
A Few Words on Plagiarism Checkers
When the client puts something along the lines of "write a unique text", it doesn't say much to the writer. What they mean is that they want an original article, based on the writer's own research. But how do we measure it? Right, plagiarism checkers and percentages that both sides agree on in advance.
A content brief must contain a requirement for a percentage of unique content and specify the plagiarism checker the writer should use (ETXT, Copyscape, Content Watch, SmallSEOTools, Grammarly, etc.). Otherwise, there would be too much content to re-check and go into disputes over.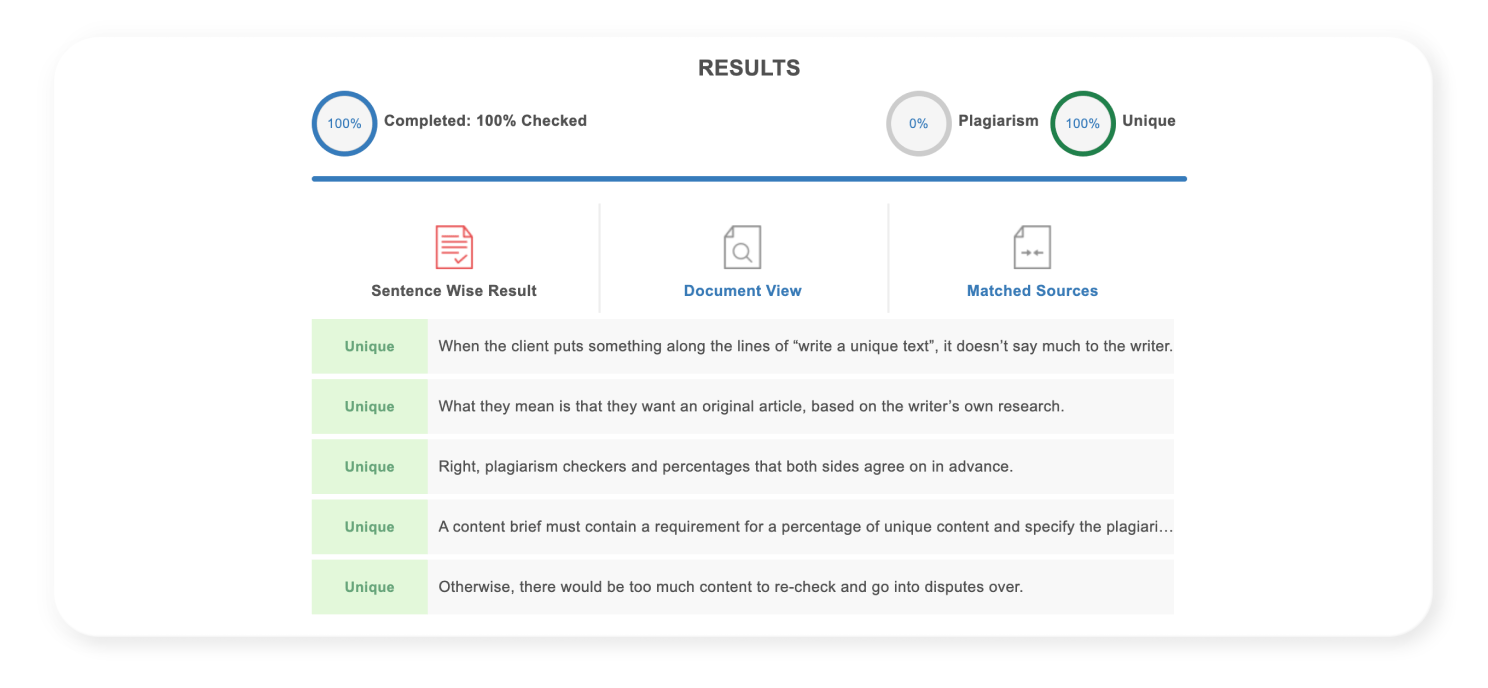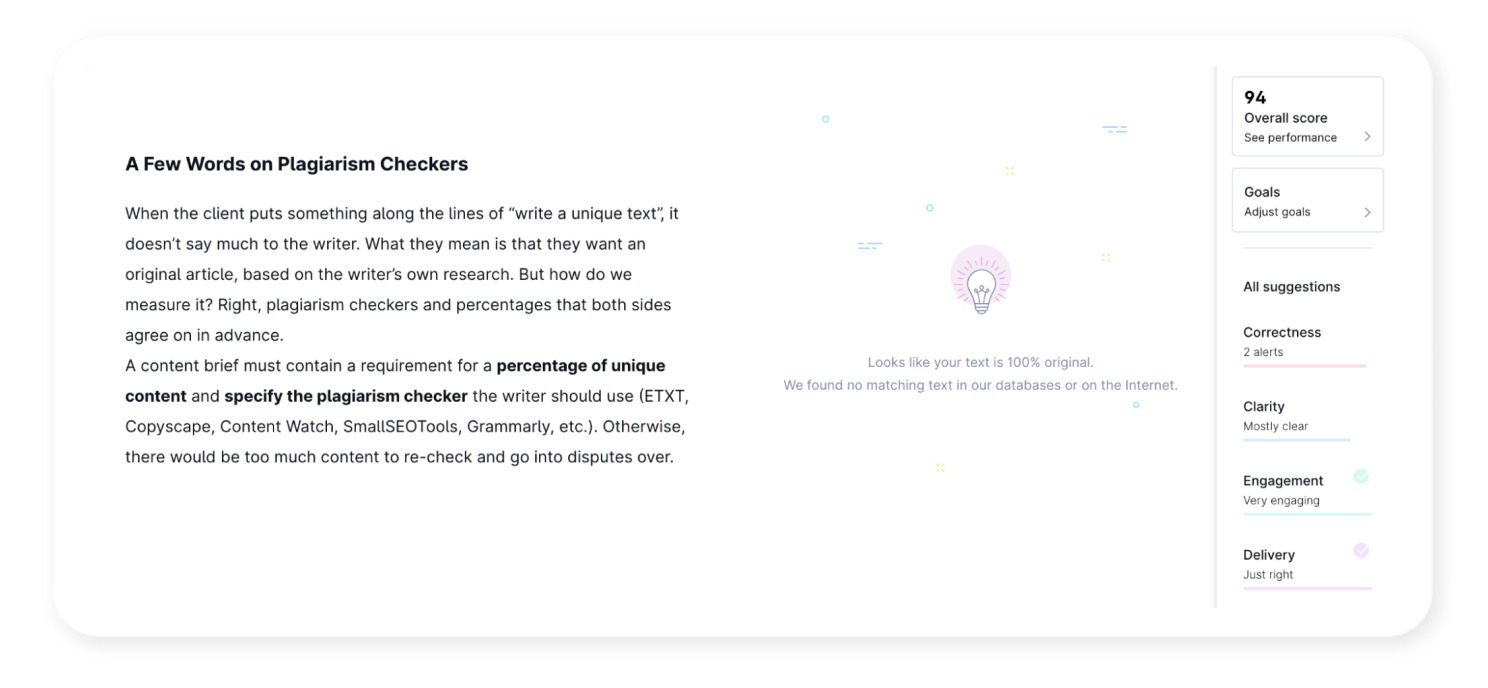 It's not uncommon for writers to produce an original article, using no references or borrowing nothing from other articles, and still get a low uniqueness score. The opposite can also be true – the article can be weaved from different pieces of copied content and be considered unique. 
Solution: choose reliable checkers that produce consistent results (even if you run them in different countries, with a slow internet connection, etc.) and work with writing teams you can trust.
Dissecting Good and Bad Creative Briefs
Below are two examples of content briefs – good and bad, slightly trimmed. We won't provide additional commentary, but don't worry – you'll see why you put these briefs in their corresponding categories.
How to Structure the Perfect Team
Let's start with the line-up. 
Project manager

(or editor-in-chief) – The link between the client and the team.

Writers

– Choose the appropriate number of writers depending on the size of the project. But don't go overboard – otherwise, your writers will be sitting about much work during a large-scale project.

Editors

– Within one project, we have at least two editors for two separate tasks – for checking SEO requirements and for checking the content itself. 

Experts

– To fact-check the text and minimize edit's on the client's end, which considering the volume, would just be overwhelming.

Proofreaders

– To ensure there are no grammatical, formatting, spelling, punctuation, or other errors.
Baseline requirements: accomplished, flexible, capable of honoring deadlines, good team players.
The choice of editors, experts, and proofreaders is generally the same, whether the work is voluminous or not. Of course, they should have a good track record (meaning, they won't slow everyone else down) and be informed of the tighter deadlines for deliverables. It's the writers who you should select most carefully because they're the ones who can ultimately float or sink the content ship.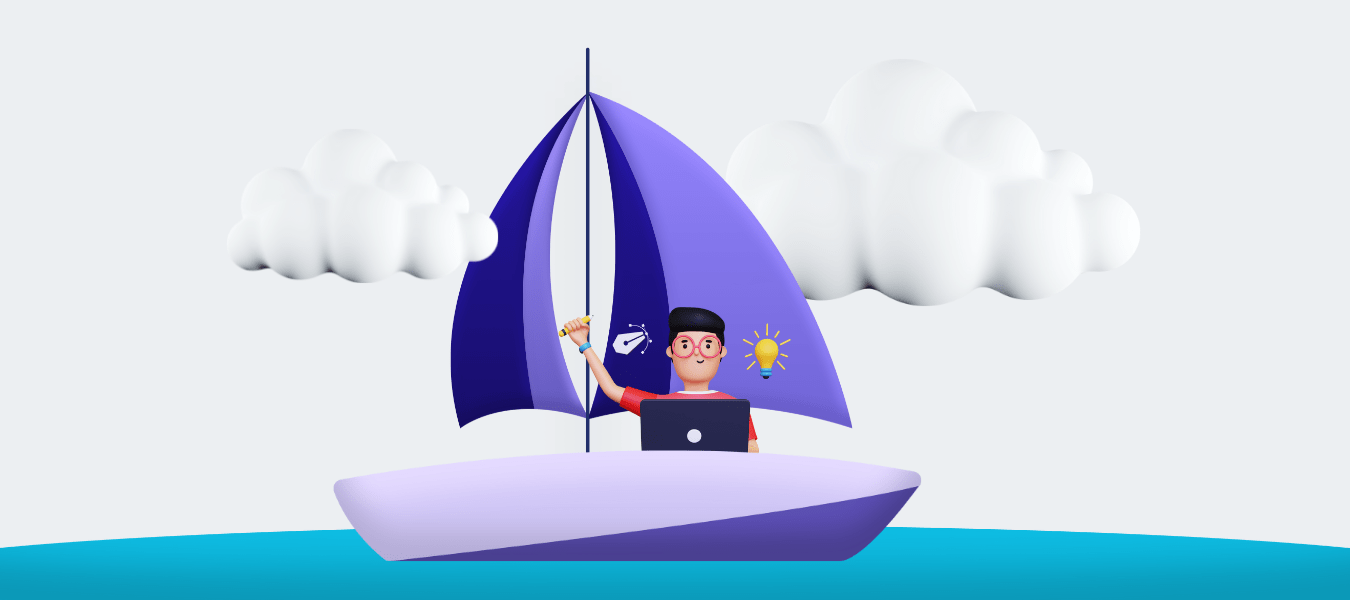 For high-demanding batch tasks, it's better to work with your trusted writers, who won't need as much guidance as new additions to the team. Experienced writers allow you to increase the output – with each passing piece of writing, they learn to deliver more for less through contingent engagements.
If, however, you'll need to expand the team to handle the workload, check their command of the target language, walk them through each item of the brief, explain the entire process and what's expected of them, and introduce them into the bulk project through smaller tasks with longer deadlines. Sometimes, taking a chance on less experienced talent works out. But other times, they will let you down, so have your backup writer briefed and ready to take over.
Different Types of Content Writers and When to Use Them
A bulk content writing project calls for a lot of writers. But your main selection criteria should be whether the writer is fit for the assignment rather than whoever is free. 
Niche copywriters fill a specific role in the ecosystem – someone can be exceptionally skilled at writing how-to guides, and someone can be a master of storytelling and emotional marketing. And, of course, a writer with a background in a specific sector, let's say, blockchain and fintech, will be more valuable in crypto projects. 
The point is not to pigeonhole your writers – just have a core team of your go-to people for different topics and types of content. Bulk writing can get monotonous, so the project manager should keep an eye on go-to writers. With time, they may run out of ideas to talk about the same things and compromise the quality of content. Consider pulling them out of their comfort zone and switching things up (i.e., assign tasks they don't usually do).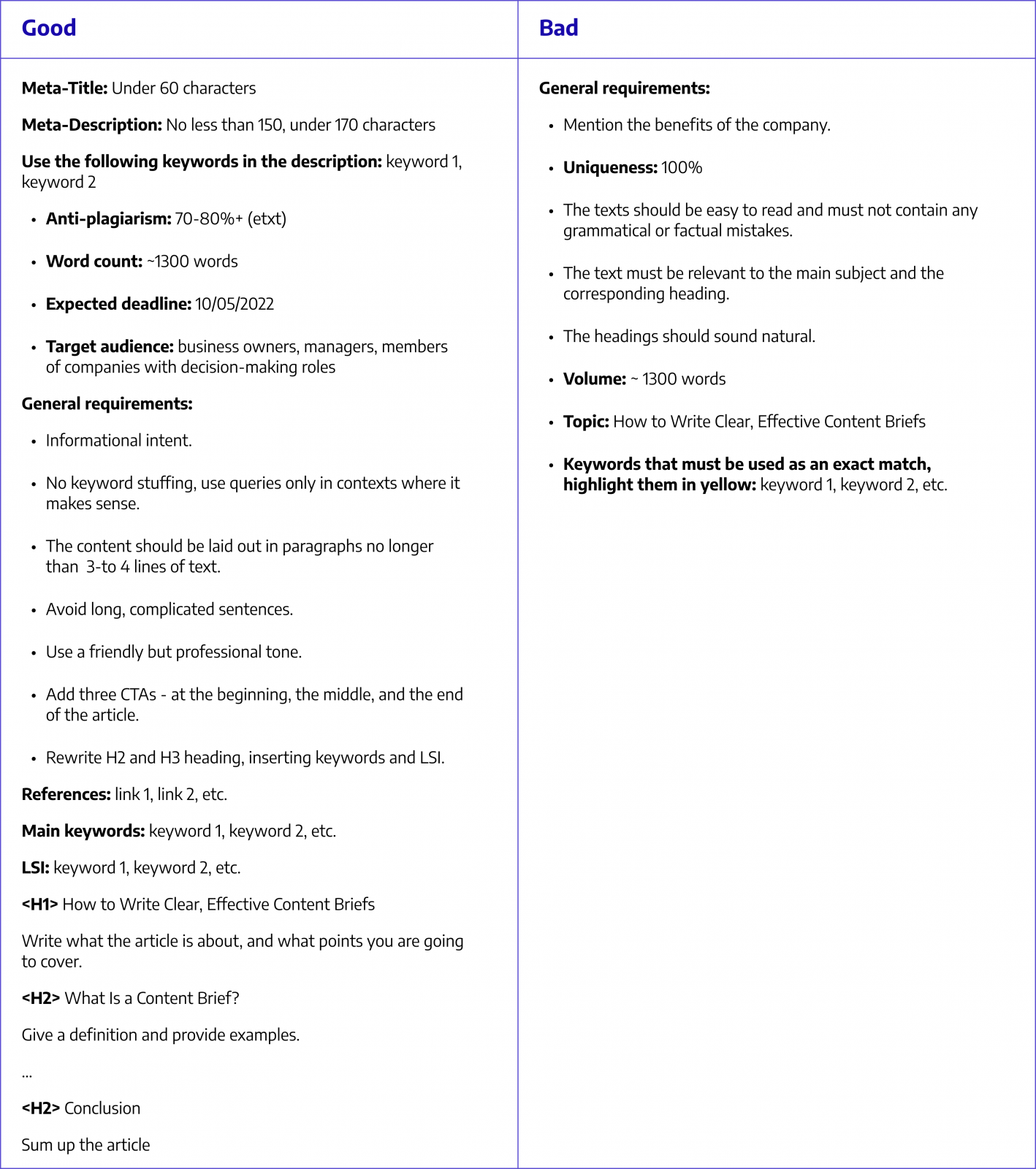 Unified Presentation and a Single Source of Truth
No two copywriters are exactly the same, which is both a good and a bad thing. The "bad thing" is getting a mishmash of different styles and techniques in a bulk project, which is supposed to create a unified brand experience. We have two solutions (which should be used in combination). 
Solution #1: Create a style guide
A detailed style guide can ensure all writers understand editorial guidelines, formatting specifications, and the idea behind the project. Have a set of standards to make the content look and feel unified. 
Solution #2: Make the project manager the "single source of truth"
A single source of truth is based on the idea of aggregating data from different sources into a single location. That single location should be the project manager. If anyone from the team has a question or concern, they will always have a direct line of contact with the person who holds the most information.
How to Streamline the Batch Content Creation Process
You may already have a general idea of content production stages just from the composition of the editorial team. And you would be right – before declaring any piece of content complete, it goes through the entire process of content creation, editing, and quality checks.
Managers are responsible for 70% of deviations in team engagement.
The team should have a specific team member responsible for monitoring each step – the project manager. This way, they will ensure bulk content production has good, consistent, and engaging results and minimize lags.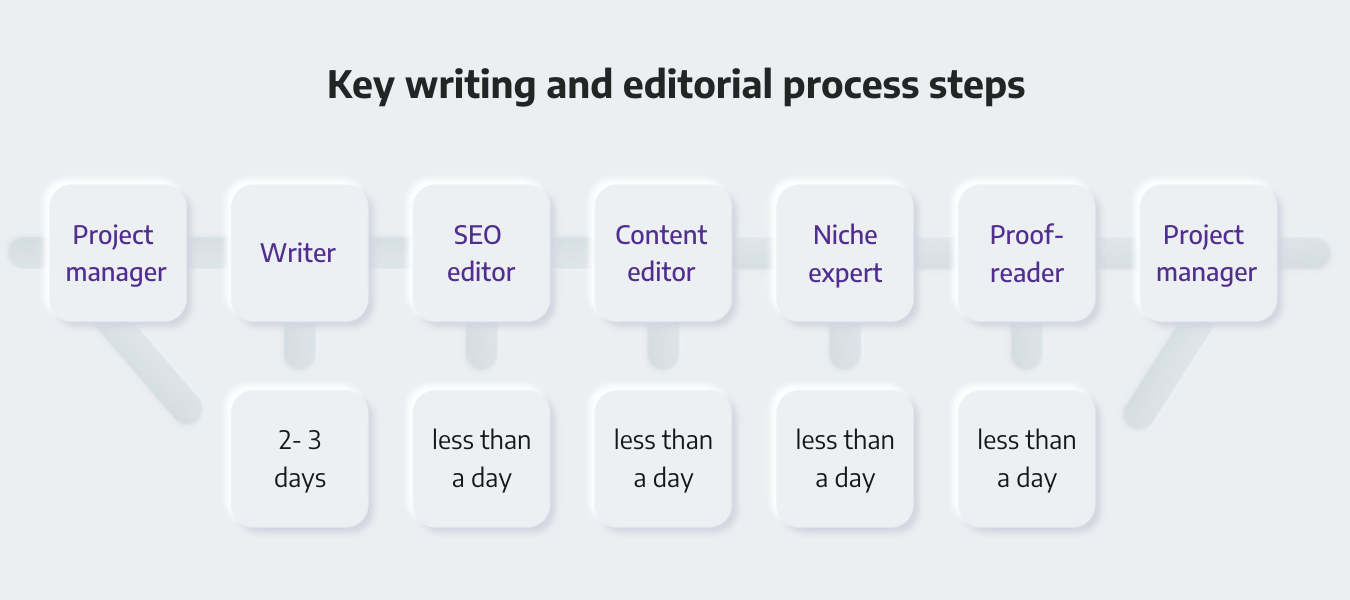 The graph above only depicts one assignment for one author. When the work is voluminous in nature, the graph is multiplied and arranged in staggered rows. The SEO editor checks assignment A and sends it to the content editor, who is finishing up the edit for assignment B, in the meantime, the writer is working on assignment C, and the expert and the proofreader are also busy with their own tasks, and so on… Overall, everyone is occupied, and the production is organized with workloads and different time zones in mind.
Here are a few other ways we use to streamline content production:
The project manager should

estimate how much time each stage will take

. This is where their expertise comes in handy – they should set tighter deadlines for routine tasks and leave more time for creative assignments and research-based articles. 

Try to fit

all editing checks within a day or two

since they take the least amount of time. 

Set successive deadlines

– e.g., one task for Monday, one for Wednesday, and one for Friday rather than all three for Friday. 

Notice when writers routinely submit tasks at night – they might

burn out from working late

.
Set a regular payment schedule for everyone on the team. Frequent compensation can help keep everyone motivated.
How to Prevent Duplicates (Both Intentional and Accidental)
Duplicates can be caused by:
Two writers working on the

similar tasks

who followed the same structure,

One writer

unconsciously repeating

their previous works,

One writer

intentionally copying

text to go through the batch faster, mong other situations. 
We won't tell you how to deal with writers who submit substandard texts (because it should be decided on a case-by-case basis), but we will tell you how to spot duplicates – use bulk-cross comparison services. Here are the platforms we use: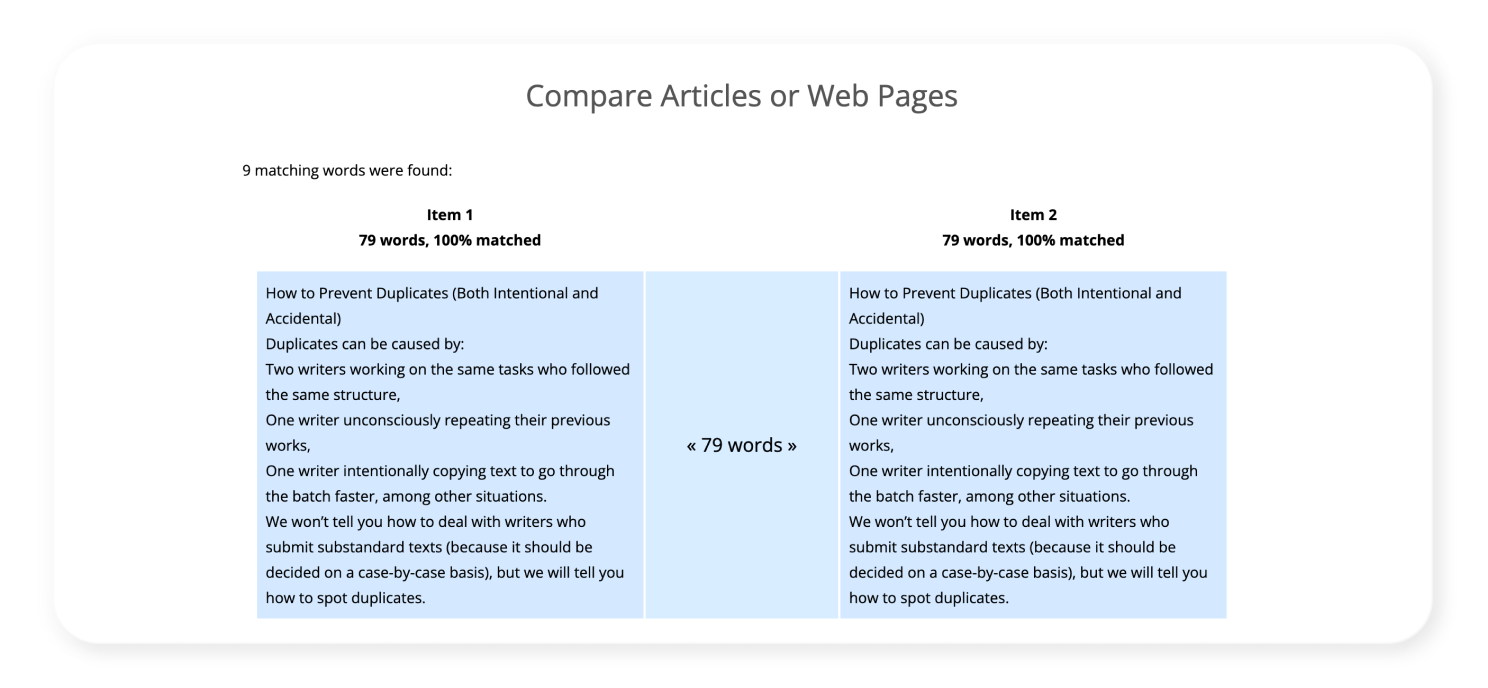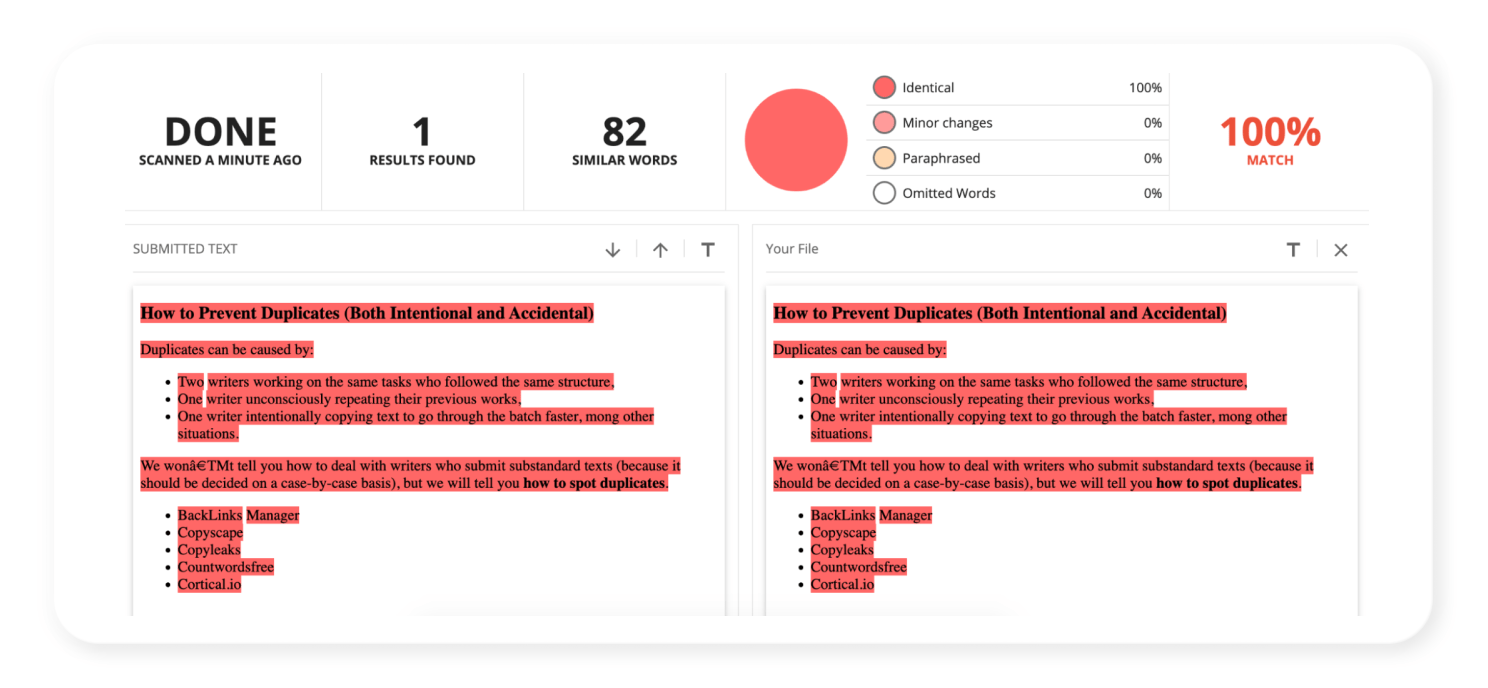 According to Google Devs, if your site suffers from duplicate content issues, the algorithm will choose one version of the content to show in our search results. So, two texts before posting can be 90% unique but very similar. The search results will only show the first version you'll post, while the other one will be as good as nothing.
How to Bulk Translate Content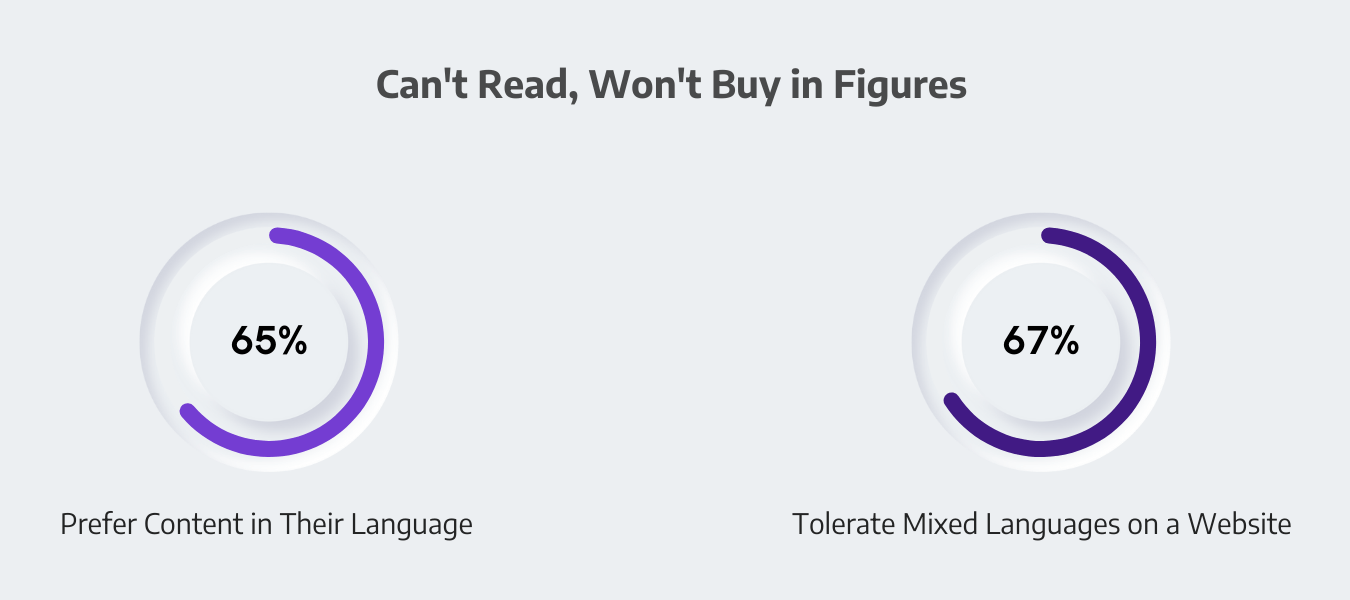 By bulk translating, we don't mean machine translating all of your content. MT is not suitable for most translation circumstances and has yet to replace human translation. Yes, translating software produce lightning-speed results, but its faults lead to inaccuracy, misunderstanding, and sometimes even offense. A better alternative – expert localization services.
When you spend a lot of time producing original content, it would be a shame to miss out on traffic from other languages. First, assess where your traffic is coming from. If you see foreign traffic that is simply bouncing, focus on these languages first. If translating all of your content seems like a lot of work, send out high-priority sections rather than entire content trees for translation into one or more languages. 
The good thing about bulk translation is that you can overlap it with bulk content production. Just make sure not to overwhelm your proofreaders (remember the tips for setting deadlines). 
Is It Possible to Produce Multilingual Content in Bulk?
Yes, as long as you're working with the right people!
Recently, we published a case study detailing how we managed to produce 2-3 articles in 4 languages per week. In short, we used all the tips and tricks from this article. The main difference was that we assembled four teams, one per language, but had one project manager overseeing all of them. And there you go – real-life proof that our recommendations work. 
Broadly speaking, we manage bulk writing in one language and bulk writing in different languages by following the same formula (obviously, adapting to your project's specifics). If you want to see this formula in action, get in touch! Even if your publishing schedule seems like an impossible feat, let us assure you that high volumes of relevant, personalized content on a tight schedule is nothing Contenteam can't handle. Need 100,000 per week? Let's discuss!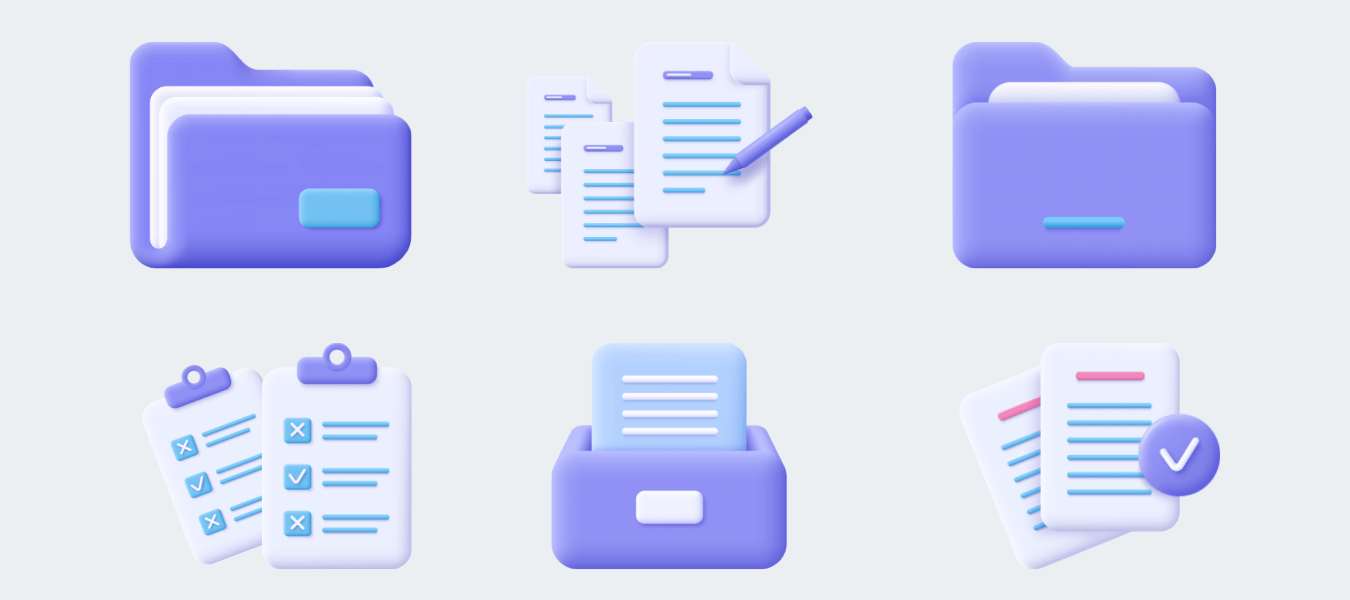 Here is what we want you to remember about bulk content production:
The content brief should be clear, thorough, and regularly updated.

You'll need at least three writers, one SEO editor, one content editor, one fact-checker, and one proofreader per project. 

Choose your go-to writers for specific types of content. 

Have a style guide to ensure the content follows a unified message and tone of voice. 

The project manager should monitor each stage of content creation.

No one in the team should sit idle at any given time.

The finished work should be cross-checked with other texts from the same assignment batch.

Choose expert localization over machine translation, even when handling high volumes of text. 

Multilingual content in bulk is just as manageable as bulk content in one language.