Are you on the fence about adding an in-house copywriter to your team? I can understand your hesitancy — the average salary of a copywriter in the US is a bit over $50,000 per year, according to data from Indeed. And if you're hiring for a full-time role, you have to consider the price of employee benefits, which increases the average cost of each employee by 31%. 
And that's still not all! You can't forget about the actual costs involved in sourcing and onboarding employees; in 2022, the average cost to hire an employee is $5,000+.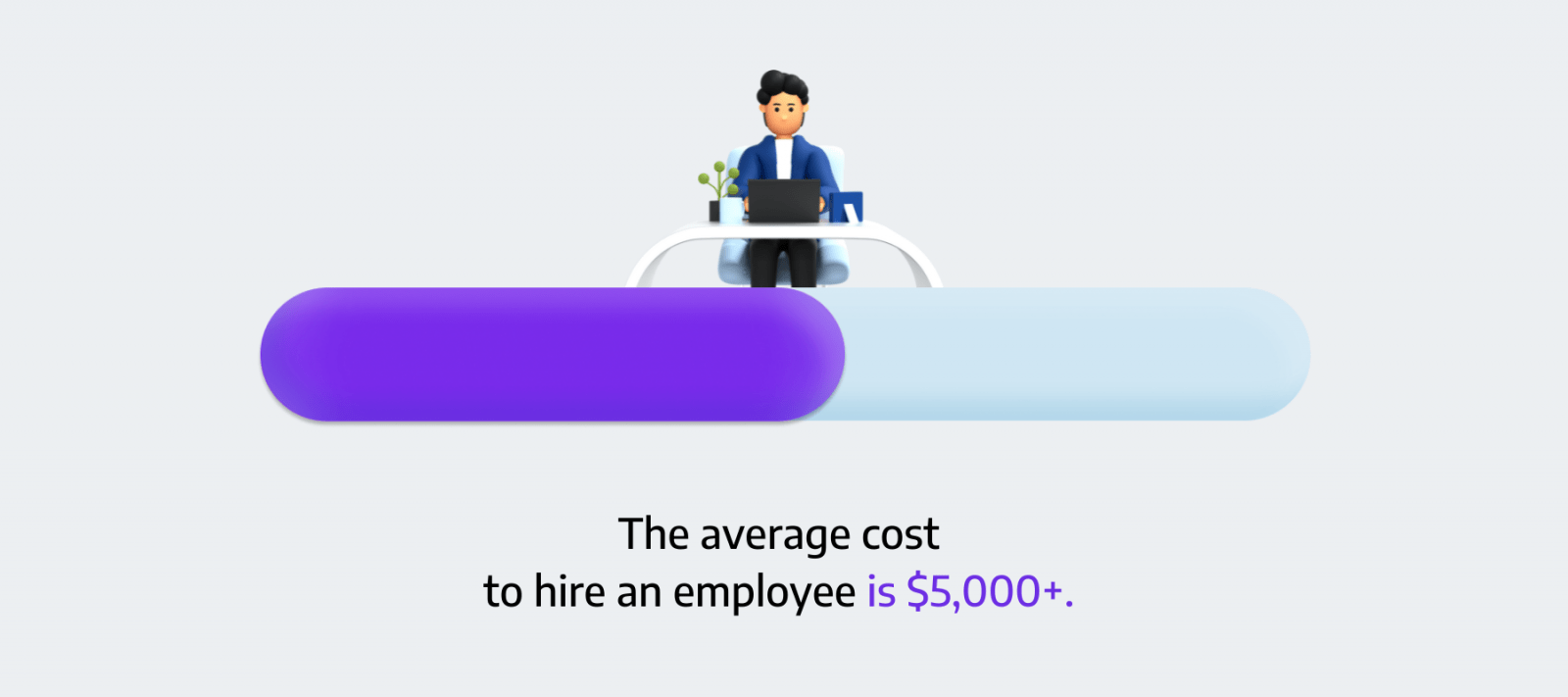 Copywriters are talented and deserve to be compensated accordingly. But perhaps you are not in a position to pay $70,000+ in salary and benefits for one. And if you have pressing needs for content, your copywriter may not be able to handle all of it; you'll have to start looking for more copywriters, and costs add up quickly. There's also the flip side: if you don't need copywritten content very often, you are paying an unnecessary salary. 
Yet, even with the expenses, working with an in-house copywriter brings far more advantages than hiring copywriters from online freelance marketplaces. I've experienced writing from members of such sites firsthand; while some are decently written, much of it is atrocious. Unless you only need copywritten content once in a blue moon, I'd say you can safely rule out using freelance copywriters. 
That doesn't mean that in-house copywriters are your only option, though! If you need high-quality content but can't pay a copywriter's salary, you can work with a remote dedicated editorial team. Basically, instead of paying a copywriter a regular salary, you're working with a team on a per-piece basis. During the weeks that you don't need any content, you don't have to pay them. If you need tons of content, they have enough writers to handle the task. As such, one of this model's biggest benefits is its scalability. 
As a member of a remote dedicated editorial team, perhaps I may seem a little biased. Yet, everything stated above isn't conjecture; I'm about to back it up with cold hard facts from The Copywriting Institute's 2022 B2B Content Marketing Report! 
The 12th Annual B2B Content Marketing Report on Benchmarks, Budgets, and Trends was published by the Content Marketing Institute, in collaboration with MarketingProfs and ON24. At 54 pages long, it's a pretty lengthy report, so I'm not going to cover the whole thing — just parts that relate to the profitability of hiring in-house copywriters vs. a remote editorial team. However, I recommend giving the whole thing a read when you get a chance!
First things first, it's important to acknowledge how the survey defines "content marketing" and "success."
Content Marketing: A strategic marketing approach focused on creating and distributing valuable, relevant, and consistent content to attract and retain a clearly-defined audience—and, ultimately, to drive profitable customer action."
Success: Achieving your organization's desired/ targeted results.
Towards the beginning of the report, you'll learn that 40% of respondents outsource their content marketing activities (which includes copywriting). Interestingly enough, 57% of the most successful respondents use outsourcing — this implies that outsourcing content marketing correlates with better chances of success.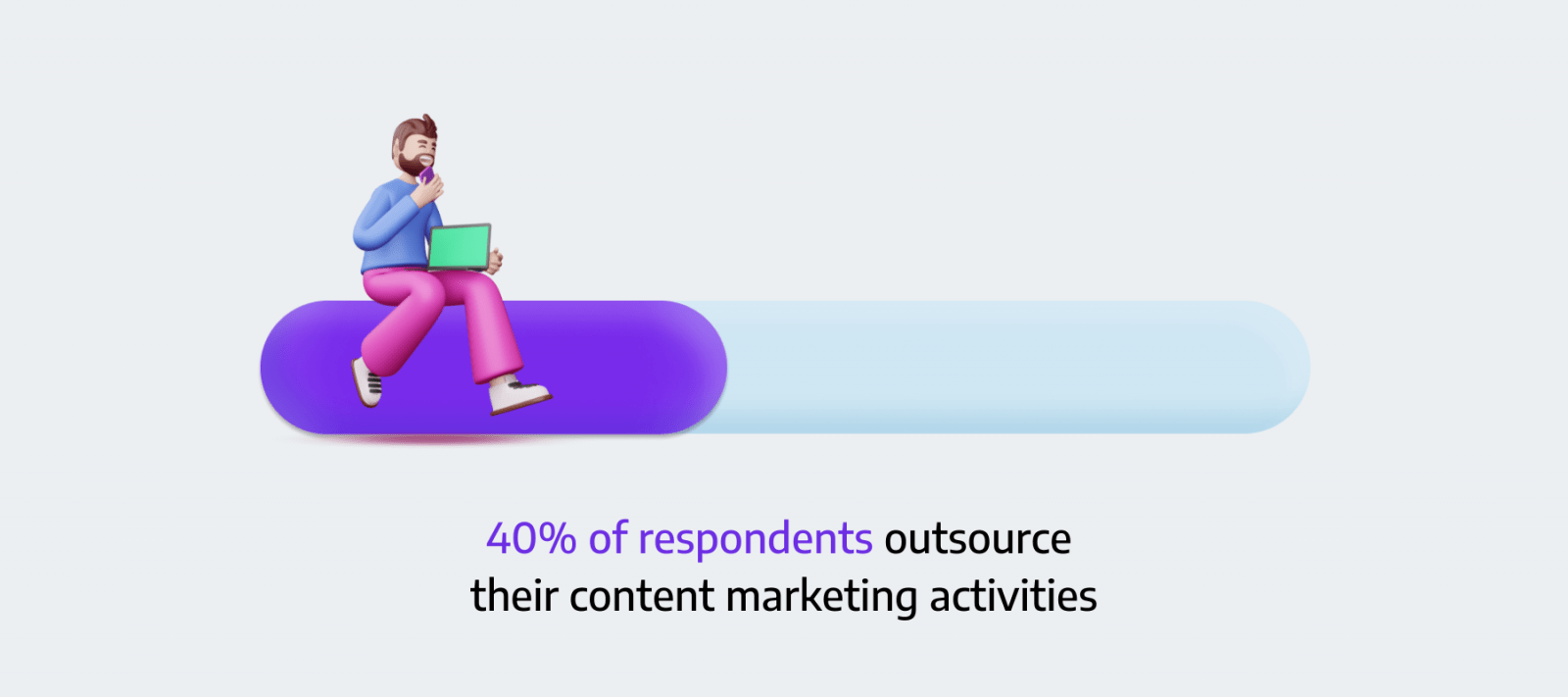 Moving on to the report's "Team Structure and Outsourcing" section — the report states that many organizations have tiny content marketing teams, often comprising just one person. Having more people contributing to copywriting impacts your chances of success. 54% of the most successful respondents have two+ employees in their content department, whereas only 17% of the least successful respondents fulfill this. 
The more players on your team, the better: you don't have one person stretched thin trying to write content, proofread their own work, publish it, and update it regularly. But with the rising need for content, soon, teams of 2-3 people may face difficulties. To illustrate this, 67% of respondents stated that over the last year, their content team was expected to do much more work without increased resources. 
So, to future-proof your in-house team, it would be best to have several writers — which cycles us back to the price point. Sigh…
Within the Team Structure and Outsourcing section, the report explained that the least-successful respondents do more content work in-house and that they are typically in the early phases of their content marketing maturity/strategy. 
As for the size of the companies, 61% of respondents of 2021's survey indicated that they outsourced — and that figure rose to 75% in 2022. So, at this point, we can see that the biggest and the most successful companies use outsourcing — even if their size and success give them a larger budget. 
Now, here's a point against hiring a remote outsourced copywriter: 65% of respondents said their biggest challenge is finding writers who have enough topical expertise. This is definitely tricky if you're working with just a couple of outsourced writers — perhaps you need copywriters to produce whitepapers on the technology your company uses. You have one who can expertly write about AI and another who knows cloud technology like the back of your hand. But what if you're introducing blockchain to the mix, and none of your outsourced writers have any experience in this area? Do you spend time trying to find another outsourced writer, or do you risk assigning it to an existing writer?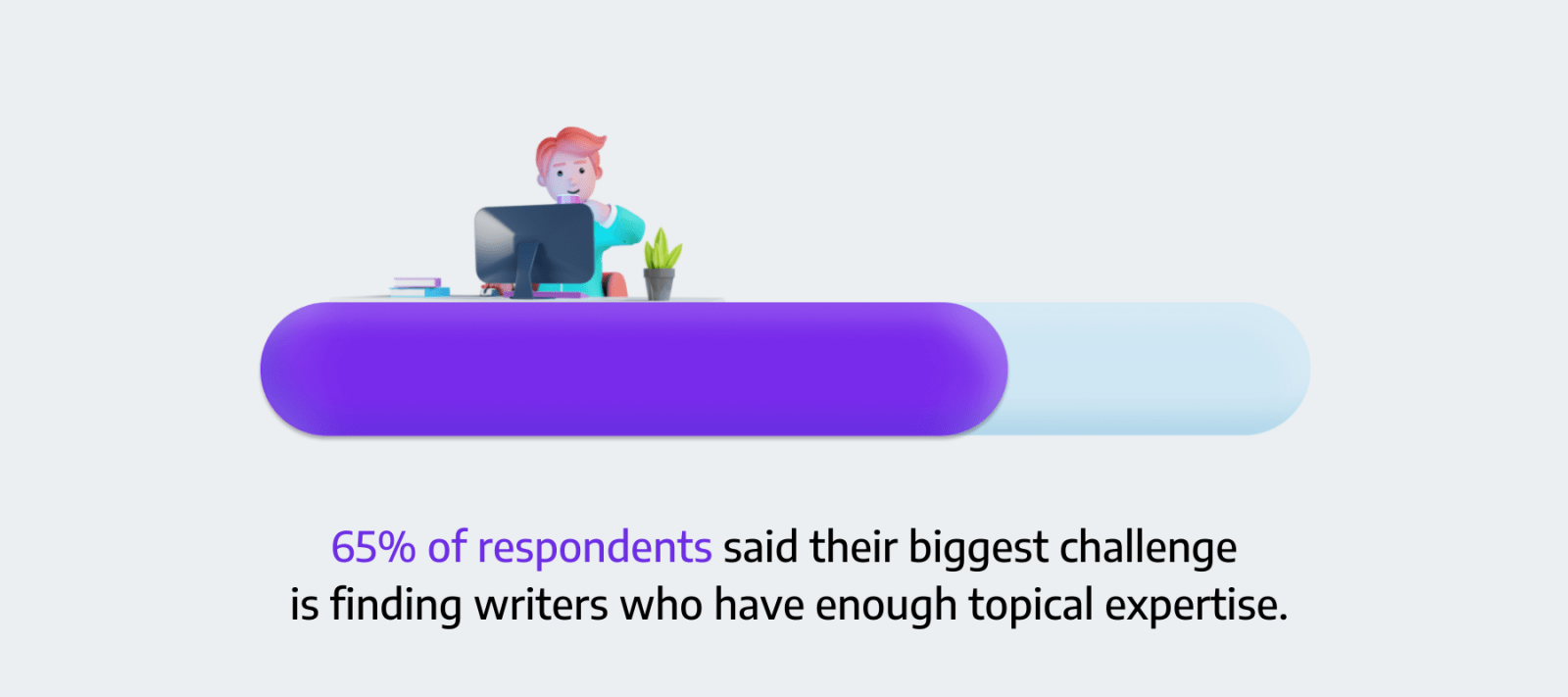 This is where full editorial teams come into play — like Contenteam (wink, wink)! By partnering with an outsourced editorial team, you'll get access to their vast pool of subject matter experts. Rather than finding writers and maintaining working relationships with them from across the globe, you'll get access to the skillset you need, exactly when you need it. 
For instance, if you need an article on how NFTs work, we would assign it to a writer who specializes in fintech and crypto. Then, we would have a subject matter specialist (somebody who is not a writer but actually works in that field) check the content. To make sure the article aligns with your branding and needs, the editor will check the work. And then, lastly, it will go to a proofreader for any grammar or syntax fixes. 
So, what do you say? Are you ready to get content on your terms? Whatever topic you want, whatever language you want, and in whatever timeframe you want: just shoot us a message, and we'll make it happen. Let's chat and get the ball rolling!
How much does it cost to hire a copywriter?
The average copywriter salary in the US is about $50,000 per year.
When should you hire a copywriter?
A copywriter is needed for any company that produces content — it doesn't even have to be digital content. Every company should have one; even if your operations are mainly offline, you need a skilled writer for advertisements, product descriptions, and mailings.
Can you hire a copywriter for a website?
Yes, we recommend doing so – well, actually, we recommend hiring a remote content team for your website. You'll get a copywriter to craft compelling service pages, and they will be checked by an editor and proofreader.