Content marketing is incredibly powerful – it increases your brand's authority, improves social media engagement, boosts your organic search traffic, skyrockets your conversion rates; the benefits are endless. But content marketing for some industries can be fairly challenging.
Compelling web content is easier to create for, say, the pet care industry – in which you can publish entertaining stories, pull on the heartstrings of pet owners, publish "interviews" with cute dogs on your company's Instagram page and so on. In an industry like fintech, on the other hand… well, you have to get a little creative, or else you will quickly lose the reader's interest.
Fintech faces similar content marketing challenges as companies in other technical industries: writers churn out jargon-filled texts that smack the reader over the head with unfamiliar terms, are jammed with contextless statistics, and have no emotional connection.
When you create fintech content, you'll walk a fine line between producing informative, selling content, and creating text that is dry, exclusionary, and a total bore to read. But I'm hoping to make things a little easier for you! At Contenteam, we create fintech content pretty regularly, and we've figured out some ways to make it more enjoyable and impactful for the average reader – without sacrificing quality or informativeness.
So, let's dive into the fintech content strategies you should be applying!
Create a Fintech-Optimized Content Plan
Think of your fintech content strategy as a building blueprint that maps out all of your objectives. To get started, ask yourself questions like this:
Why are you creating this content? (To promote your brand, to establish authority and trustworthiness, to provide information to users)
What audience do you want to address? (Educational background, financial background, age, life goals, values)
What kind of actions do you want to achieve? (Signing up for services, joining a newsletter, sharing an article, interacting with social media posts)
How will you promote the content after it's published? (Newsletter, social media, PPC)
What types of content do you want to create, and where will you publish them? (Longform blog articles, brief FAQ guides, Facebook posts, Tiktok finance videos, YouTube videos)
How will you maintain a consistent brand style? (Tone of voice, Brand Book)
Who creates the content? (In-house team, external team, freelancers)
And why is a content plan necessary? Well, primarily, it helps you define your marketing goals and set various priorities, ensuring that all of your marketing efforts are goal-driven. Furthermore, your short-term and long-term goals can be used to measure the effectiveness of your plan. It also helps you cut costs; creating and promoting content can get expensive, and if you don't have your eye on the bigger picture, it's easy to spend too much on projects.
Now, everything presented above should be applied to content marketing within any industry. But how can it be optimized for a fintech company? Here are some ideas:
Identify Your Unique Value Proposition (UVP)
Your UVP should be leading your Fintech marketing strategy; for a fintech company, it should show potential clients problems within the financial services industry and demonstrate how your service solves those problems. One example is Digit's UVP, "Save money, without thinking about it." It considers a problem that potential clients are facing – when you manually save money, you might set aside too much or too little, forget to set funds aside, or just stop altogether. With Digit's automatic saving feature, though, the customer doesn't have to think about a thing; money is automatically deducted from their salary and put into a savings account.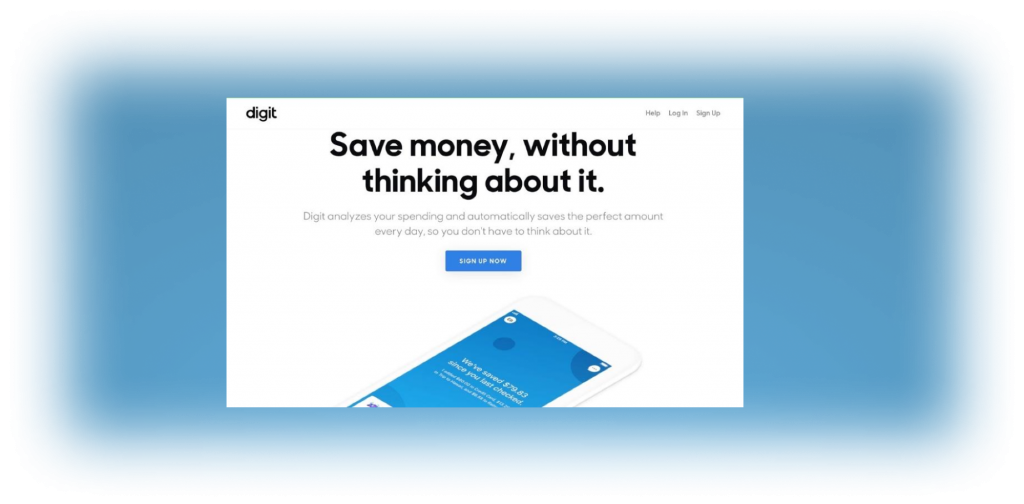 Create Customer Personas
Your best current customers are the ideal personas to target, so make sure to analyze your existing client base. Ask yourself which fintech products your current clients are using the most, where else they are present within the Fintech online community, and what kind of content they consume.
By viewing your existing customers as real personas, you can make lookalike target audiences to segment your content to. Then, by combining personalization and segmentation, you will experience more valuable content conversions and better marketing ROI for your fintech business.
Research Fintech Content Marketing Trends
Determine which content types are thriving on which platforms – and their target market. You can use these fintech trends to devise your own strategies. For instance, financial technology consumers heavily consume video content; figure out what kinds of videos they watch and where they access it, and you can leverage the visibility for greater sales.
Publish Content in Multiple Forms
You can greatly expand your reach by publishing multiple kinds of content; people have their favorite formats for digesting information, so make things easy for them. By putting out different forms of content, you'll diversify your traffic, increase your organic leads, and experience higher engagement. Here are some ideas to get you started:
Publish educational, longform blog posts. Hey! That's what I'm doing right now! Did you know that only about 15% of fintech blogs contain an article that's 2,000 words or longer? I smell… an opportunity! By publishing comprehensive, longform content, you'll establish yourself as an authority in the space and attract potential clients who are interested in financial education. For longform content, choose niche topics that require in-depth explanation – for instance, an article that explains what NFTs are.
Write case studies based on your happy clients. A satisfied customer is one of your biggest assets, especially if they are high-profile. So, whenever possible, create case studies that show how your services helped a specific client overcome real problems. This helps readers contextualize your services and see how you might be of use to them.
Publish opinion pieces. According to an Edelman-LinkedIn study, 89% of people will perceive a company in a more positive light after reading a thought leadership piece. 50% of them said that these opinion pieces end up influencing their purchasing decision. By publishing thought leadership material, you can create timely, relevant content, establish your expertise, and drive conversations in financial communities.
Record bite-sized podcasts. While your podcasts could contain insight from your own company, we strongly recommend bringing in outside views as well. They could be your clients, partners, consultants, industry analysts, commentators, etc. One example is the Thoughts on the Market podcast, which has a rotating cast of hosts and a wide listener base.
Create cool-looking infographics. Fintech topics, especially subjects related to crypto content marketing, are well-suited for infographic form, as they are full of concrete data. With an infographic, you can make intricate topics understandable for the average person. For instance, here's a really neat infographic on how blockchain is applicable to different industries: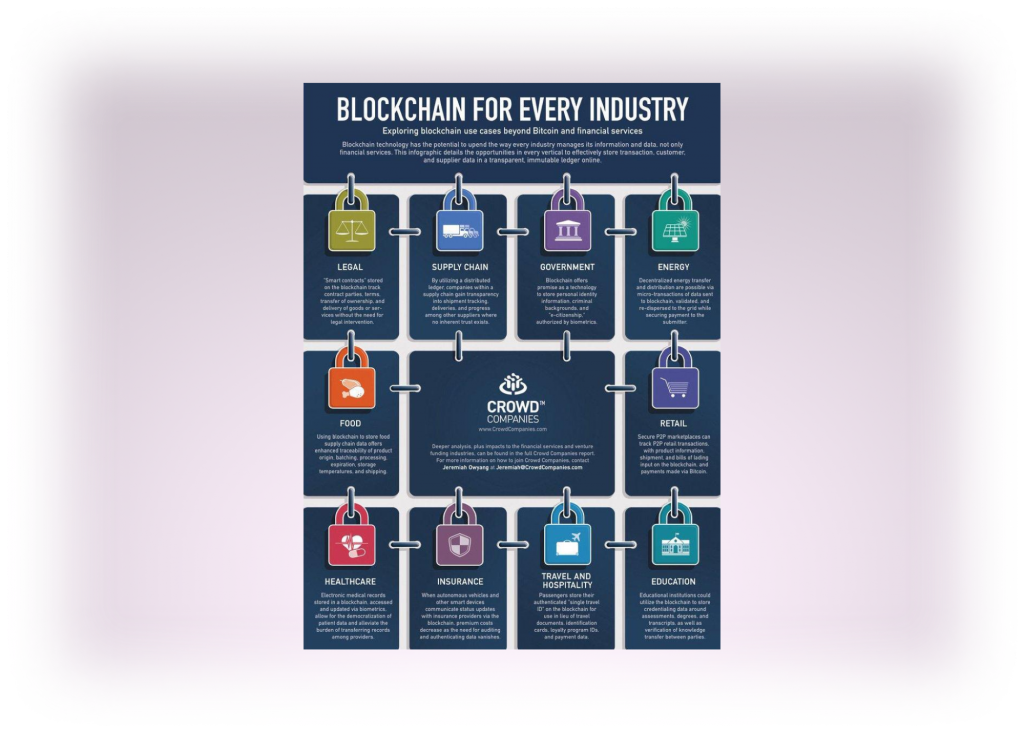 Tell Stories
Storytelling in marketing is an art – it draws readers in and helps them make a personal, emotional connection to the product or service. As I mentioned earlier, storytelling comes intuitively when you're writing content for the pet care industry or, perhaps, for a hospitality business. But it's still entirely possible to incorporate storytelling in fintech content.
Now, I don't mean that you should just throw a story smack-dab into the middle of your content just for the hell of it. You have to be strategic about its placement: the goal of a story should be to overcome challenges in customer acquisition, namely (1) building credibility, (2) educating readers on how your solution overcomes pain points, and (3) earning trust.
To create stories that meet the above challenges and resonate with real people, you have to focus on three key factors:
Humanity. The main idea here is to intensify the emotional connection that a reader feels with your business. For example, let's say that your company offers wealth management services. What do you think would foster a better emotional connection: a block of text that gives cut-and-dry wealth management strategies OR a story about a client who experienced a life-altering event and needed assistance with portfolio management? Both kinds of content can be useful, but the latter is certainly better for building humanity.
Tone of Voice. I've actually published an entire article on tone of voice; feel free to check it out! That article was directed towards the IT industry, but because fintech is a highly technical subject, it follows similar guidelines. Fintech content creators tend to learn towards an authoritative style – but a unique, playful, or even humorous tone of voice will set you apart from other brands. With a more relaxed tone of voice, you'll be able to create engaging content that an audience will want to interact with.
Tension & Conflict. All good stories have an element of tension – a pain point if you will. In storytelling, you should be sure to use an example that addresses your target audience's most pressing problems. Then, bam! Show them how your company's services solve the problem!
Get Rid of Jargon
Your B2C fintech content needs to be accessible to the average reader – so filling it with terms like "Unicorn," "Cockroach," and "Finnovation" won't do you any good. Unfortunately, the fintech industry has a HUGE jargon and buzzword problem, which ends up alienating potential clients who are new to the finance world. There are whole guides aimed at helping beginners navigate the jargon-heavy fintech space, and I just wish this wasn't the case.
Now, I'm not knocking jargon altogether; it can be an efficient way to communicate with other companies and leaders in the industry – you can get a whole concept across with just one word. But, it doesn't really have a place in consumer-oriented business writing. The best solution when publishing fintech content is to use the simplest language possible (in just a moment, I'll show you an example of a successful fintech company that does it right).
In-Depth Analysis of a Fintech Company That's Gotten It Right
Now, let's examine a startup fintech company that has been wildly successful – with that success largely resulting from an amazing content strategy: Robinhood.
Robinhood was founded in 2013 and has experienced incredible growth; it's estimated to be worth nearly $32 billion, and it has a user base of approximately 18 million accounts. The founders, Vladimir Tenev and Baiju Bhatt created the company with the aim of making online trading more accessible and democratic; the service offered zero-commission trades, which was totally new for the fintech industry.
You see, with Robinhood's fintech app, customers don't need to pay any fees for opening an account, depositing funds, holding money, or making exchanges. It is a very generous business model – but it wouldn't have been nearly as successful without a well-thought-out marketing strategy.
Robinhood was so unlike anything in the fintech industry, and its target audience was younger Millennials. Because the startup was trying to make online trading more accessible, it stands to reason that their target audience was largely made up of people who had never traded before – whether due to high commission fees or a lack of knowledge/interest. Thus, Robinhood had to appeal to people who had no knowledge of how trading worked – and their content needed to be informative, understandable, and engaging.
So, Robinhood created a "Learn" section on their website, which was filled with guides to all sorts of trading topics. Creating these guides would certainly have been challenging, as they would need to break down complex topics for people with zero background knowledge. And, what's more, the content would need to be legally compliant with regional, national, and internal regulations.
The marketing team was comprised of writers, editors, subject matter experts, and strategists, who all worked together to create a content pipeline – and the results were astounding. A massive amount of content was created, and no matter how difficult the topic was, it was approached in a friendly, accessible, and non-condescending way.
Let's go ahead and take a look at Robinhood's "Learn" section. Firstly, you'll notice that they call attention to the simplicity of their guides: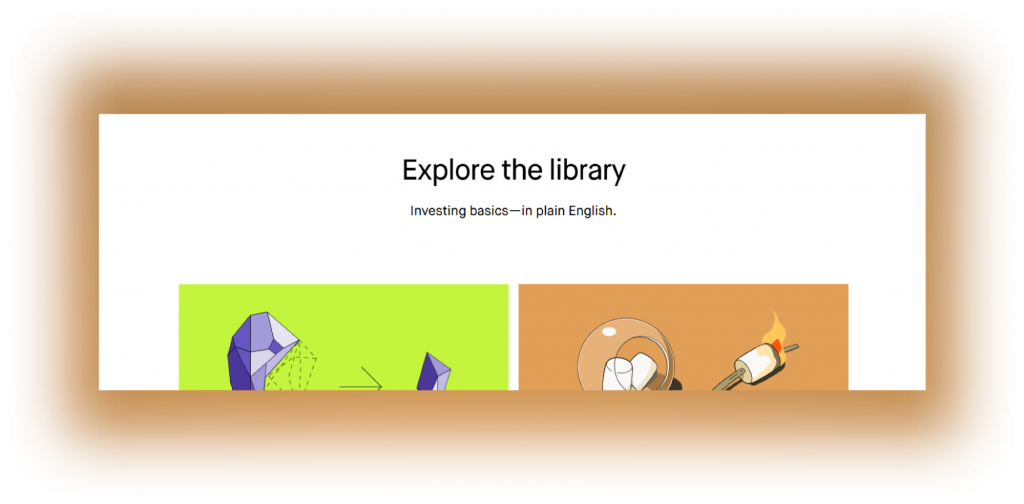 The name of each guide is presented in question form – the entire Learn section sort of works like an extended FAQ. This is pretty smart because newbie traders will likely use Google to search these exact questions – thus, Robinhood's organic traffic for their Learn section has got to be impressive.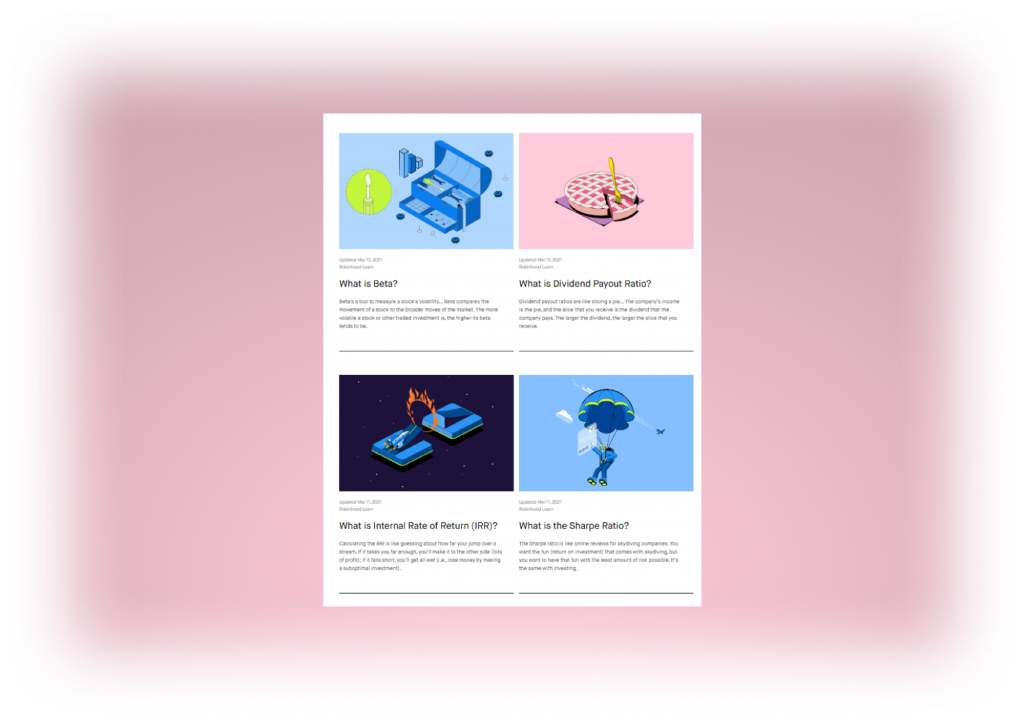 Let's examine a specific article now; feel free to follow along with me! I chose one that is usually pretty boring on most fintech blogs: "What Is an Annuity?" The first thing that I noticed was that the page is broken up into blocks, making it easier to scan for information – there's a definition block, an explanation block, an example block, and a takeaway block.
I also noticed that there are lots of keywords in green font; you can click each one to go to a related guide. I think it could be improved by showing a definition when you hover over the word, but that's just me being nitpicky.
Looking at the section "Understanding an Annuity," everything is very easy to understand. The sentences have a straightforward structure, no industry jargon is present, and the simplest possible language is used. You can tell that this section was written to be as helpful to the reader as possible, rather than being packed with keywords for SEO purposes.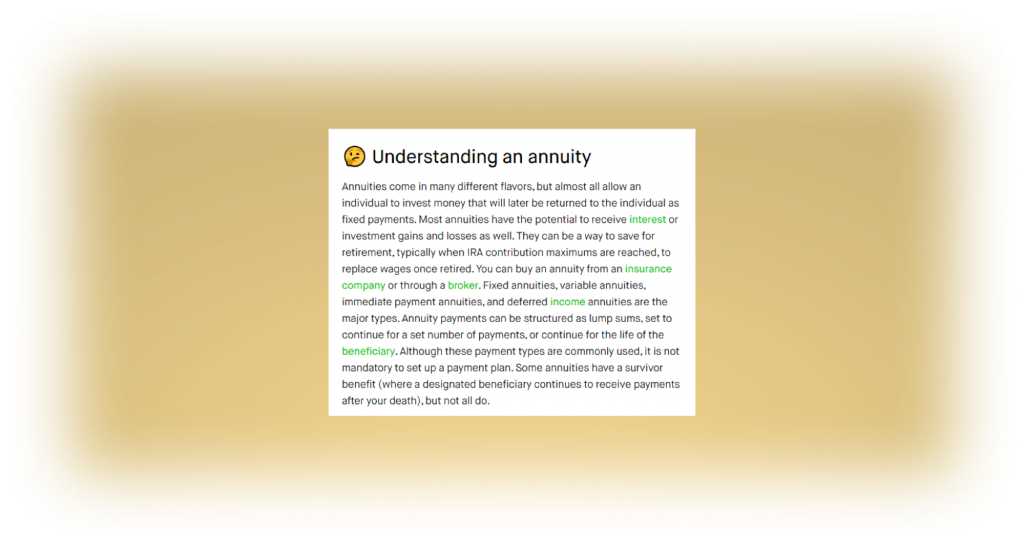 Next, let's look at the example they provided. I love that they did this! It's a very straightforward example that provides context for the earlier explanation. Once again, the language is not complicated, and the sentences are simple.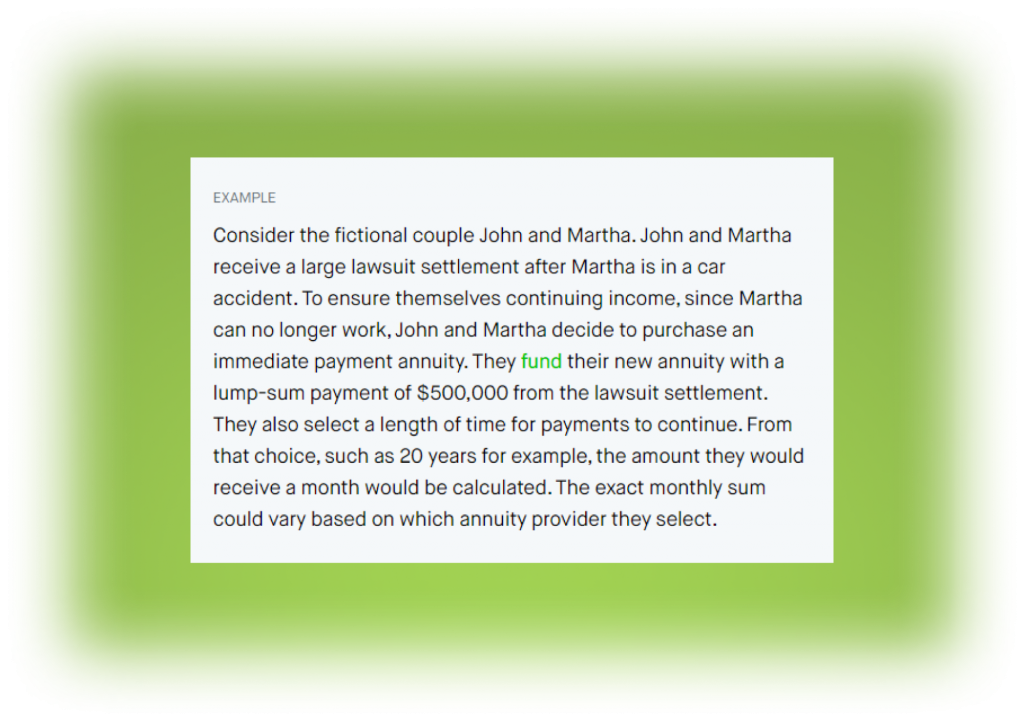 Now it's time for my favorite part of the guide: the takeaway! RobinHood compares annuities to a freezer full of ice cream – thus further cementing the concept into the reader's brain through a fun metaphor.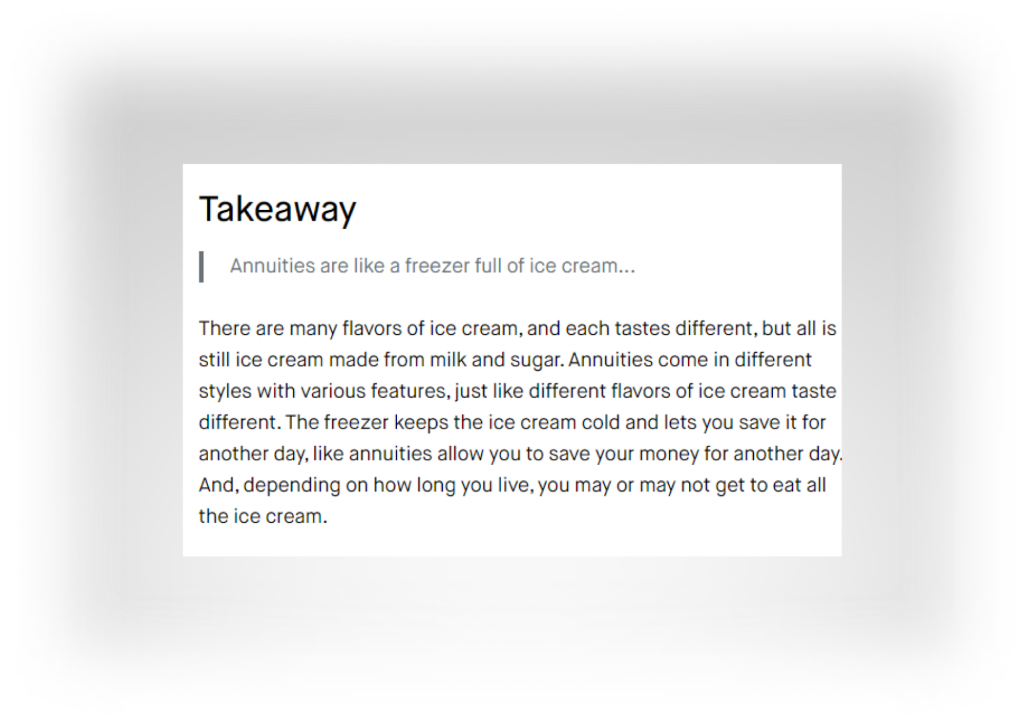 This is the end of the guide, but if you scroll down, you're presented with related information on annuities – this is for readers who want a deeper understanding of the topic.
I looked through several more guides, and each one is written the same way – with digestible chunks, simple language, a fun takeaway, and optional information further down. Something else that is pretty cool: they include a survey in which readers can select whether the guide answered their questions. What a cool way to get concrete feedback on your content!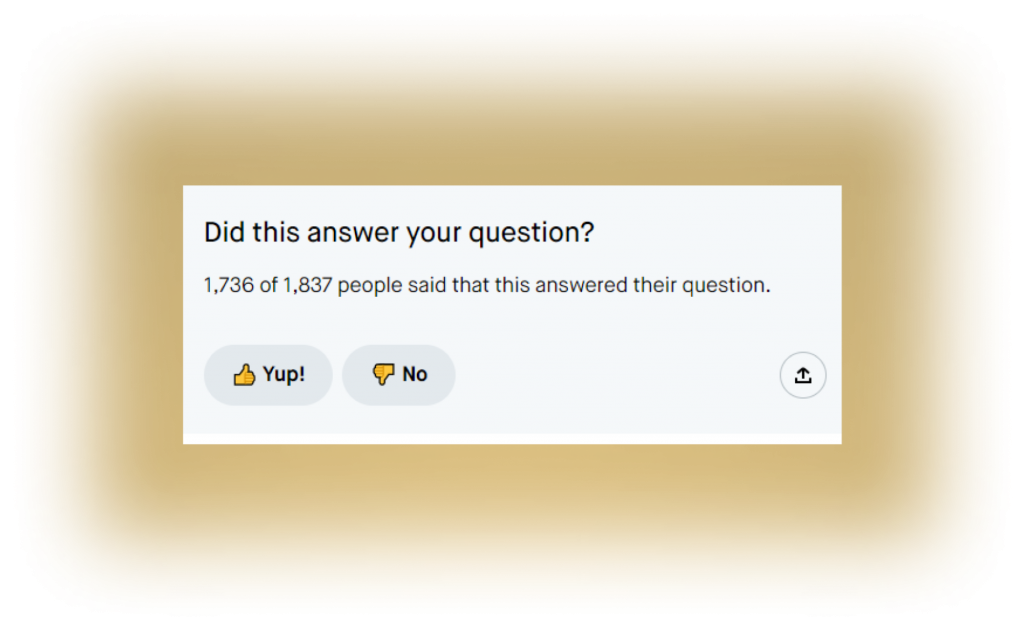 Final Thoughts
I know this article has been a bit of a doozy – so here's a quick refresher:
Create a fintech-optimized content plan
Embrace a more conversational style when appropriate
Explore the art of storytelling
Publish multiple formats of content
Eliminate jargon from B2C content
Fintech content can be tricky to get right – especially when you are working with a large team of writers, each with their own style. If you want to simplify content creation on your end, reach out to Contenteam! We create compelling content for fintech companies and crypto marketing texts, helping businesses stand apart from their competitors with informative and engaging texts. We use storytelling when appropriate, can write in an authoritative manner (if you prefer), and strive to make content accessible for all readers. Let's chat about how our web content production pipeline can fit into your content plan – from idea generation, writing, and SEO, all the way to proofreading and editing!