"Becoming a developer" is the new "becoming a banker". The profession is fairly new, in-demand, and well-paying. Businesses are lining up for talented developers, and as of 2021, the global talent shortage of qualified IT workers is 40 million.
The companies are ready to offer work flexibility and decent pay. It would seem that with such great terms, high demand, and respect around the profession, IT services don't need further promotion. However, supply increases along with demand. The industry is known for tough competition, as well as numerous newcomers. Everyone hoping to fit in needs to stand out – especially if you are promoting a remote developing team or agency, you need to articulate the advantages clearly. 
This guide will explain how to do it the right way, what channels to use, and what trends to focus on. Also, check out examples from strong players for inspiration!
Market Research: Development and IT
Before implementing any marketing activity, you need to research the market and competitors. This will help you understand what niche is more profitable and what advantages you should emphasize the most. 
Start by analyzing your closest competitors: teams that work for your target audience, stand on about the same level of popularity as you, promote their services in the same area, and, of course, offer similar services.
 Analyze each team based on the SWOT model:
Strengths
Weaknesses
Opportunities
Threats
Apply this model to your company as well. Thus, you will make an objective comparison between yourself and other businesses and create a unique selling proposition. Some of the important questions to answer are: "What makes us better than our competitors? Why would people choose us specifically? "
Itransition, for example, emphasizes its impressive track record in international projects.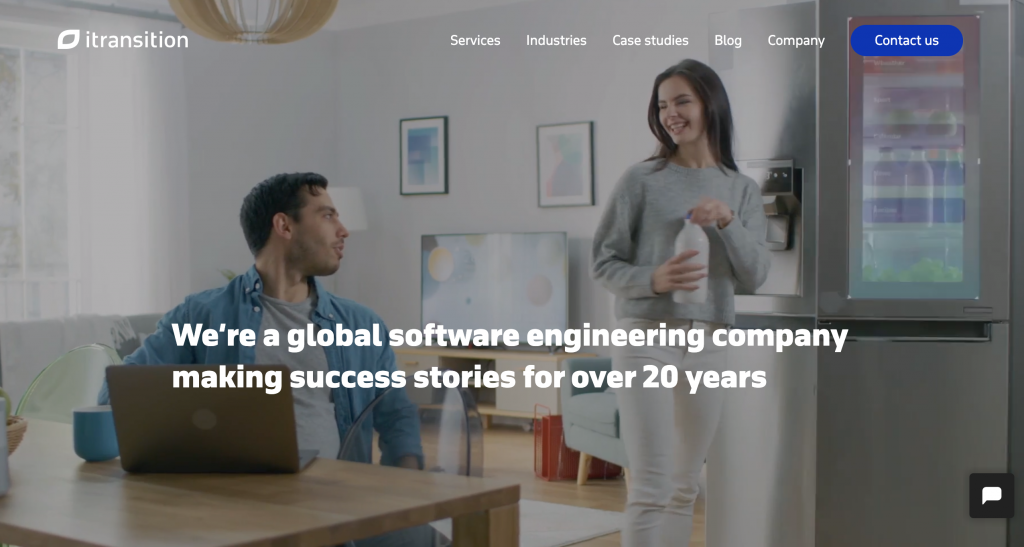 Kandasoft focuses on digital business transformation.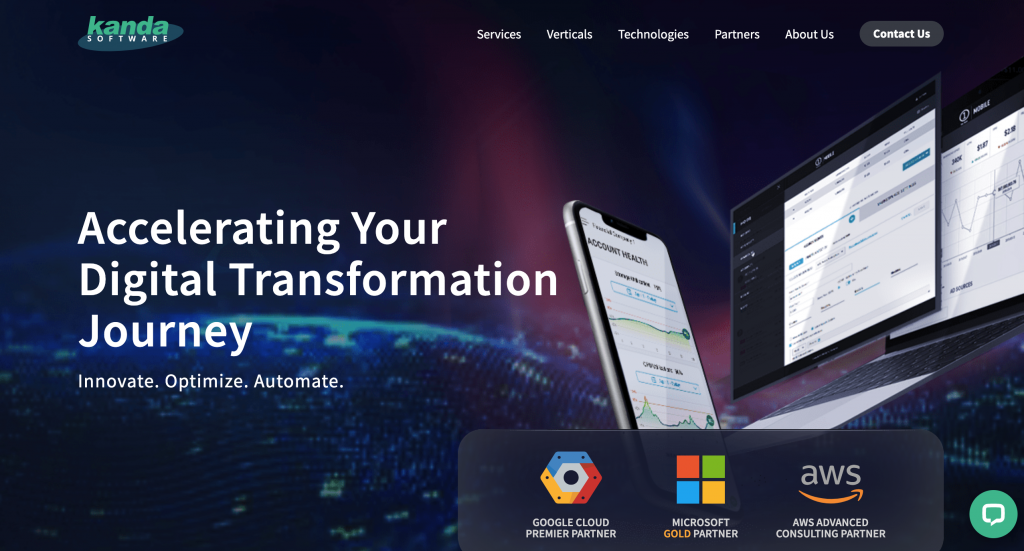 Kodius promises seasoned veterans that will solve customer problems.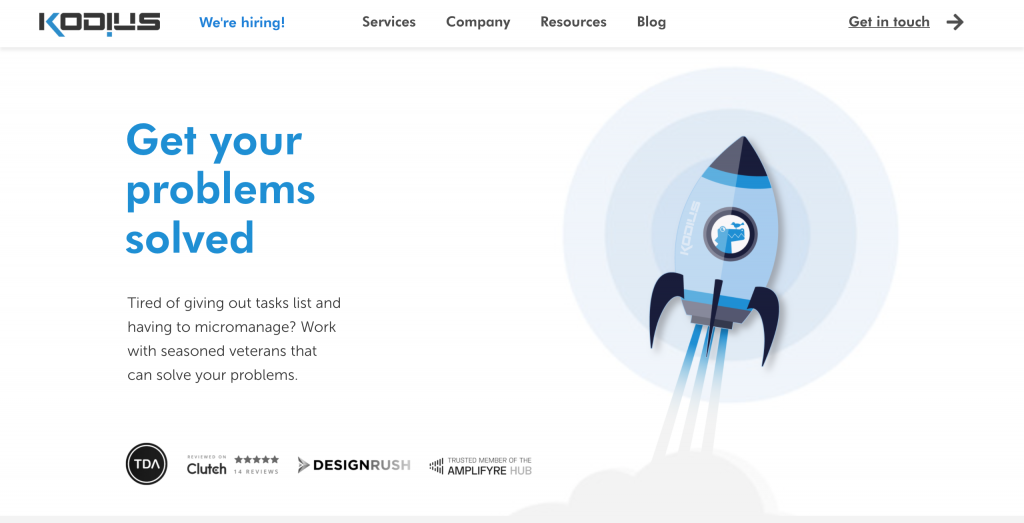 In terms of positioning, it's also important to keep track of the industry as a whole:
There are almost 27 million software developers worldwide, and there will be 27.7 million by 2023 and 28.7 million by 2024.
61%

of HR professionals say that their biggest challenge is finding qualified developers.
Global IT spending is projected to exceed

$4.5 trillion

in 2022, up 5.5% from 2021.
Over the next ten years, the number of developers is expected to increase by

75%

.
Tech startups raised

$100 billion

in investment just in Q3 2021.

 

46% of companies

charge less than $20,000 for a basic development project. For general utility tasks, 61% of firms ask $20,000-$40,000.
53% of developers consider adapting to changing client requirements their biggest challenge. 17% of respondents mentioned continuous performance and load testing management. And 13% mentioned finding and hiring the right developers.
As for the types of projects, developers work on enterprise applications (84%), solutions for business process automation (53%), e-commerce products (38%), Big Data tools (30%), CRM (15%), and training programs (7%).
The leading industry trends are artificial intelligence (69%), blockchain (56%), Internet of Things (47%), Big Data (31%), cloud solutions (28%), augmented and virtual reality (26%), and cybersecurity (24%).
Strategies for Promoting Remote Development Teams and Agencies
Generally speaking, online promotion is the only viable strategy for developers. Offline channels can only be somewhat effective if you're focusing on local businesses. This includes advertising in print media, on TV, outdoors, industry events to get contacts of potential customers.
The main advantage of development services is that they are not tied to one location. The only limitation is the language of client communication, nothing else. And if the team can communicate in different languages, the scope of potential clients expands further. Although communicating in English is the default for both developers and businesses. Fortunately, now there are many services providing legal and accounting solutions for international cooperation. So, the coverage only depends on the company's goals and an effective marketing strategy. 
It's safe to assume that any IT company would want to work with interesting projects, loyal clients, and profitable solutions. Let's take a look at tried and tested strategies for promoting IT services and finding these clients and projects.
It's practically impossib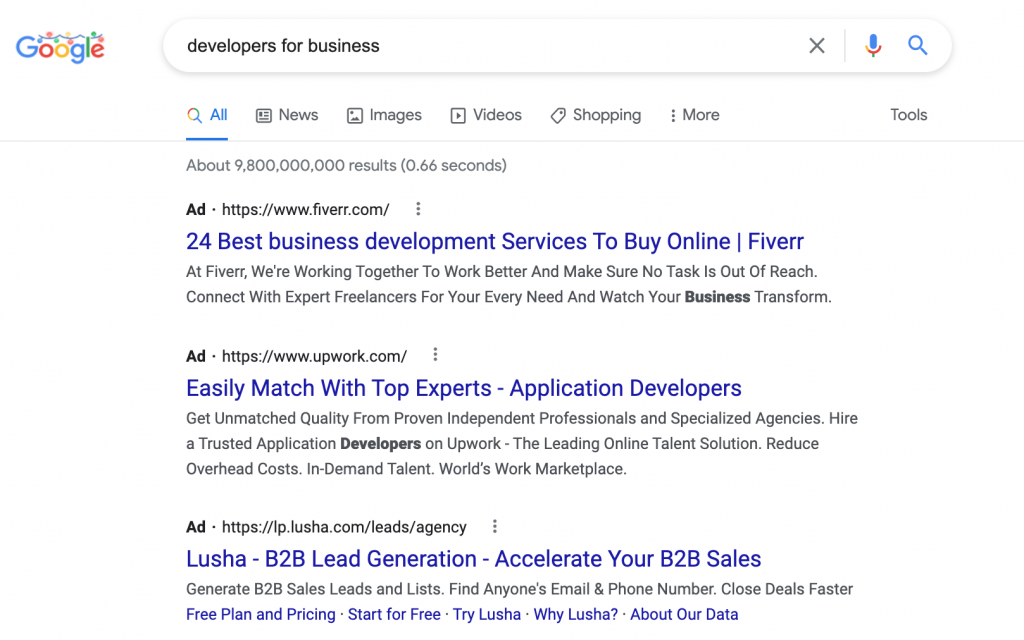 le to look at a business and determine that it needs software development services. A clear demand is easier to work with. 
Contextualadvertising in search engines allows you to display ads for relevant queries. For example, "app development" or "developer for business".
| | |
| --- | --- |
| Pros | Cons |
| The link to the landing page is guaranteed to be at the top of SERPs | Ad placements can be expensive because of high competition |
| No need to work on search engine optimization | Requires professional help to set up campaigns |
| You can narrow down audience targeting to the relevant services | Risk of click fraud by malicious bots |
| You already have potential customers that might be interested in the offer, you just need to convince them to take action |   |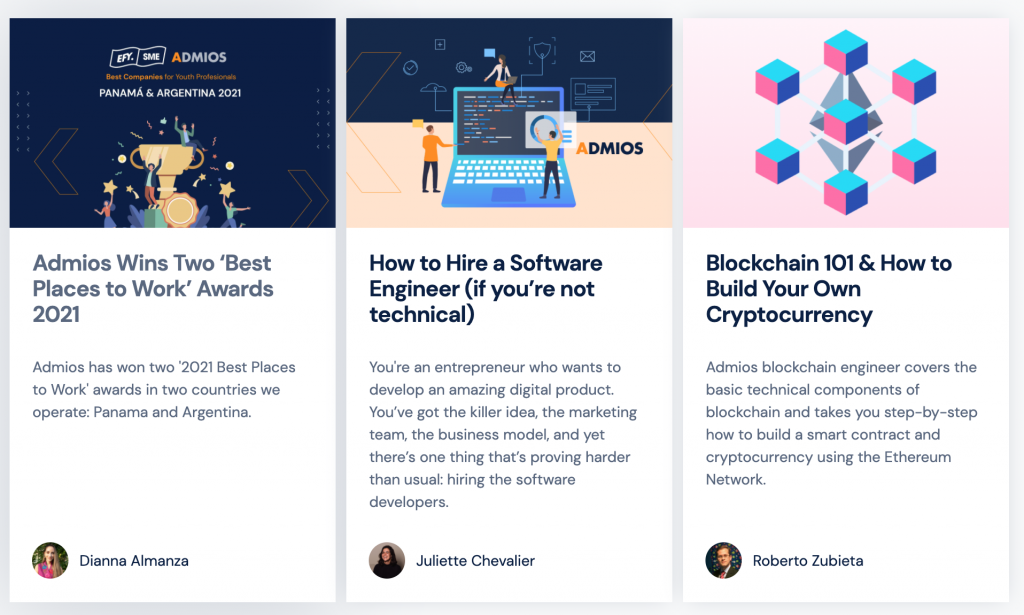 Building and promoting your website is a must. It's where you drive advertising traffic and collect leads. A website ultimately helps to improve your position in the search results for the long term. Maintaining an expert blog will help you get there. Fill the website with valuable, high-quality content, optimize for keywords you are interested in, regularly add new content. If you need a pro team for content creation, get in touch – we will be happy to help 😉
Good material will build organic traffic gradually. One tactic to speed up the process is smart link building, which we will talk about later.
| | |
| --- | --- |
| Pros | Cons |
| Relatively inexpensive | Organic promotion takes time and requires continuous effort |
| High-quality content will establish trust with the audience and increase conversion | Only top-quality content has a chance at the top, and you need a lot of resources to produce it |
| Your website belongs to you, so you don't have to worry about it being blocked or deleted |   |
|   |   |
Social Media and Targeted Advertising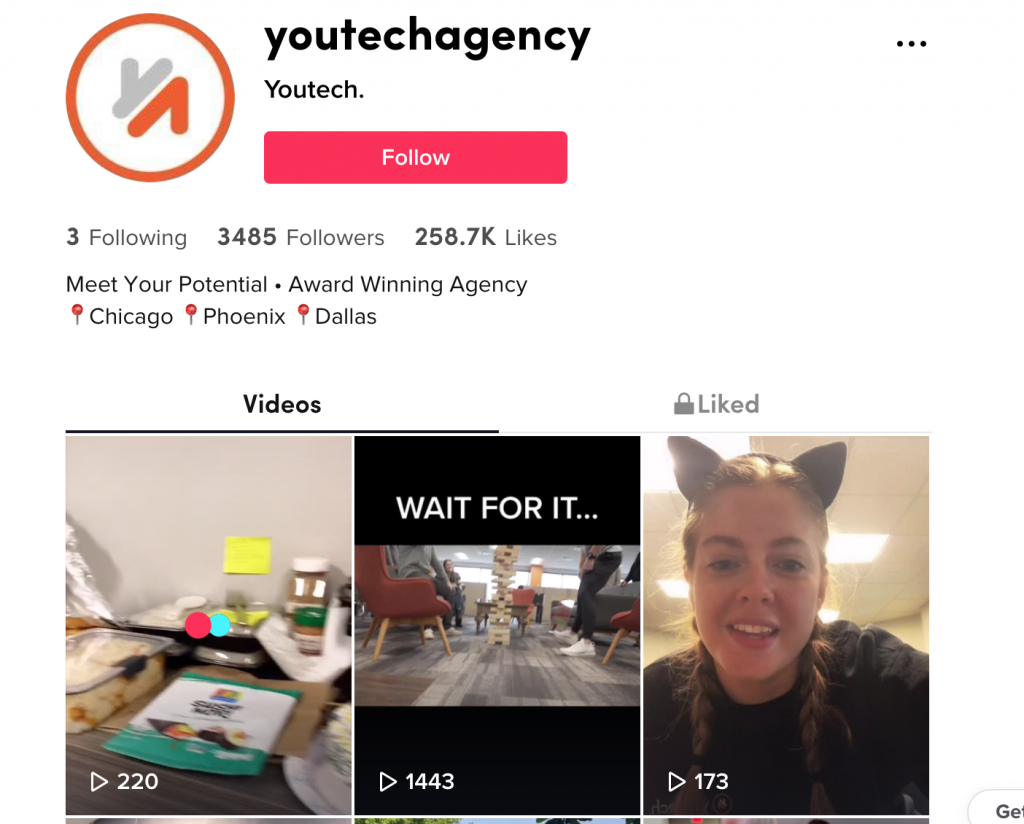 Social media brings you closer to potential customers. This is where you can establish strong relationships: talk about behind-the-scenes of the company, employees, challenges, and wins. Experiment with different formats and reach new audiences. Ads will strengthen your organic presence and help you build a substantial subscriber base faster.
| | |
| --- | --- |
| Pros | Cons |
| Freedom of expression and creativity | You are dependent on algorithms and updates |
| Collects hot leads and warms up the audience | Slow organic growth |
| Builds loyalty | Requires constant effort and experimenting |
| You can rely on customer support for certain issues |   |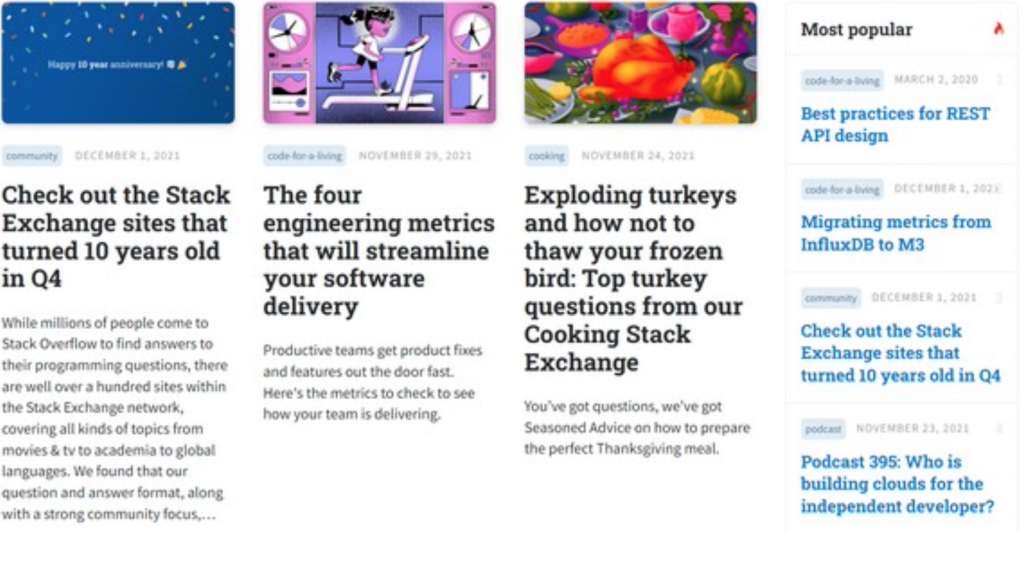 Useful content isn't only limited to a blog format. Your options include guest posting, expert commentary for industry media, and in-depth material with restricted access to collect leads.
The strategy attracts potential customers, builds loyalty, and brings quality links. Links incidentally affect the position in the search results (in a positive way).
Pros

Cons

Builds trust and expert status

You need to negotiate with each site separately and adapt to their requirements

Covers a potentially interested audience

It often takes a long time to get approved – up to several months

Material posted on high-traffic sites is more likely to reach the top of search results

Media websites usually close external links from indexing or refuse to add them at all
 

Content can be removed or altered without notice

 

 

Many resources charge a publication fee, which sometimes is unreasonably high
Catalogs and Business Review Websites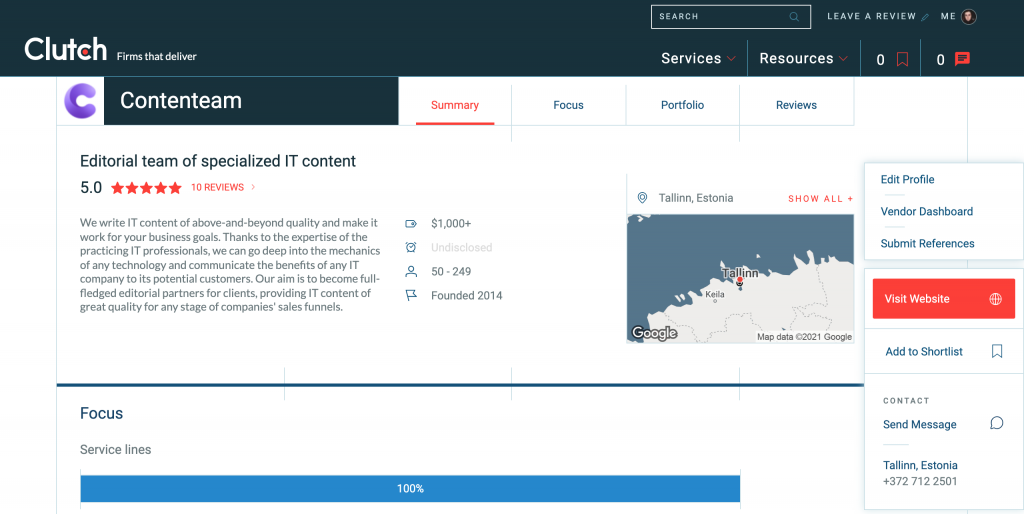 Before purchasing or hiring, customers often turn to rating aggregators. This way, they can assess the quality of services without bias based on independent reviews and specialist recommendations. That is why it is beneficial to register your business in catalogs, take part in rankings, fill out cards on relevant resources and review aggregators (Clutch, GoodFirms, Provenexpert, Youteam, Upfirms). While doing so, remember to monitor user feedback. This strategy is also useful for link building.
| | |
| --- | --- |
| Pros | Cons |
| Expands your online presence | Keeping track of reviews on dozens of sites can be difficult |
| Build customer trust | You often have to pay to get included in rankings |
| Can be a source of high-quality external links | You need to purchase extended packages from these aggregators to generate fair attention |
| You only fill out cards once, and they work for you indefinitely |   |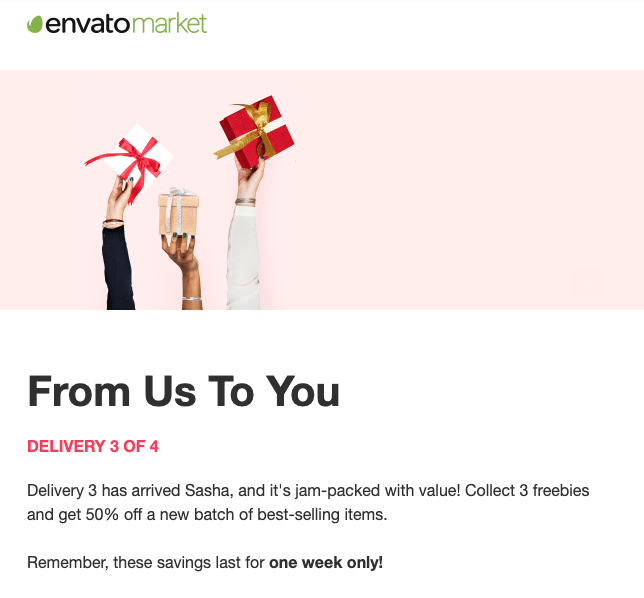 There are several approaches to this method. The first is to collect user emails, warm them up with useful content, and convert them into buyers. The second is to send offers to the base of cold contacts.
This tactic can only work if you have strong, well-written texts and embed emails into the sales funnel correctly.
| | |
| --- | --- |
| Pros | Cons |
| The strategy has the highest return on investment | You may end up in spam |
| It is convenient for segmenting the audience and addressing each group with a personalized message | It's difficult to catch the attention of recipients |
| Many services offer testing tools and automated statistics collection, making it easier to optimize your strategy | Email services become an additional expense |
| You only fill out cards once, and they work for you indefinitely | Email is becoming less popular with the rise of instant messengers |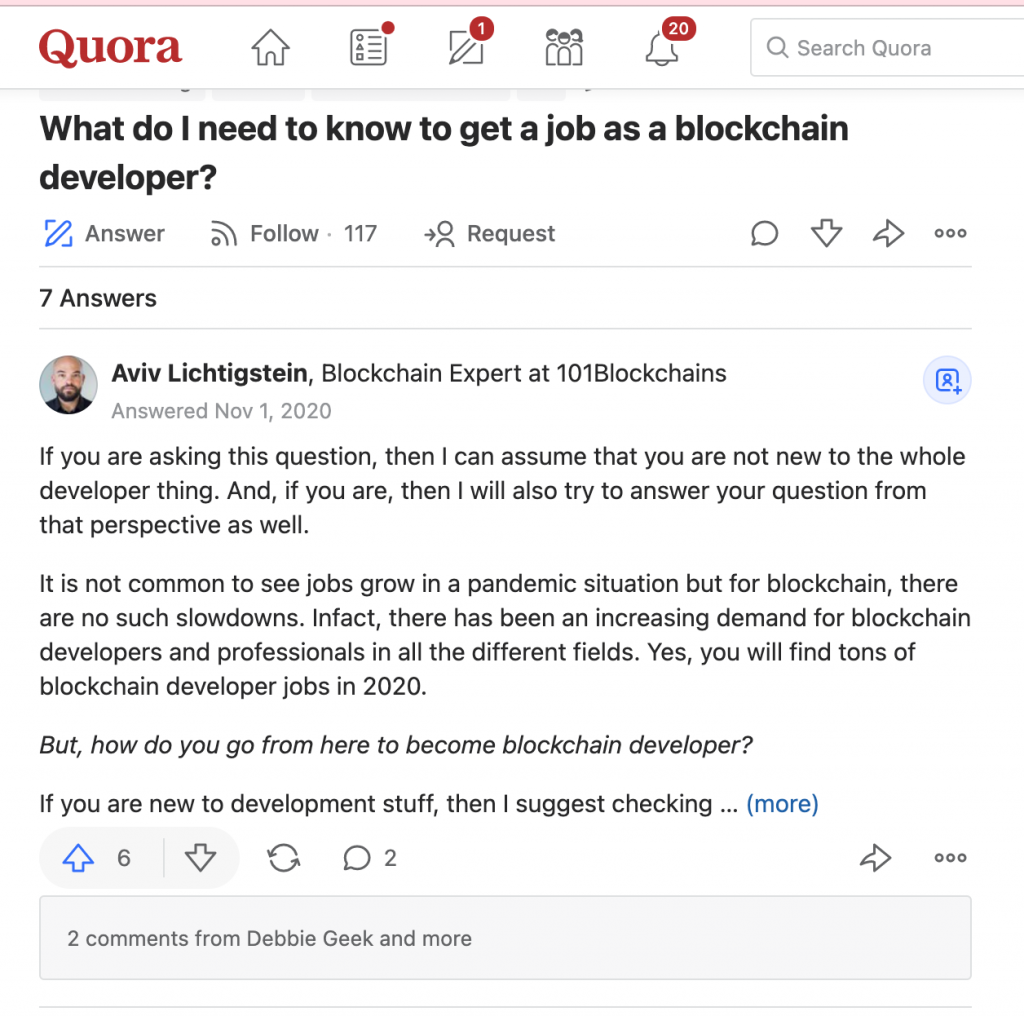 This is the last strategy for promoting an IT company – it is meticulous but can bring surprising results. Crowd marketing involves mentioning and placing links on relevant online resources: forums, Q&A services, social media, groups and communities, blog comments, etc.
| | |
| --- | --- |
| Pros | Cons |
| It is free in most cases | It is hard to find relevant, suitable discussions |
| Native advertising works well | Some websites don't allow adding clickable links |
| High-quality link building | The author's rating is often very important and takes time to build up |
| There is a wide variety of websites and formats to choose from |   |
These strategies work great together. Experiment with them and choose the ones that suit your budget and align with your goals (specifically, how quickly you want to achieve it. 
Marketing Trends for IT in 2022
The target audience for IT companies is businesses. Your potential customers don't need complex terms and descriptions of advanced technologies. Their interests lie in solving specific problems: optimizing processes, increasing revenue, and scaling up. You should speak the same language as your clients and consider the context of communication. In 2022 will, it will be important to simplify, personalize, and experiment more. 
We want to highlight the following trends:
The growing popularity of video content, especially short-form. TikTok continues to change the Internet culture, and by now, light-hearted, funny videos have taken over social media. Users are getting used to an informal presentation of information, and B2B is no exception. IT agencies and developers become more involved in experimenting with the format, not only expanding reach but also collecting leads.
Personalization. Research potential customers, divide them into categories based on their requests, behavior, interests, line of work, etc. Build a sales funnel for each group and create personalized content. Businesses will appreciate relevant offers much more.
Simplified communication. It can be a struggle for some developers – to move away from dull tech content full of niche terms. This format should be left for communicating with colleagues or employees. But when talking with potential clients, you need to demonstrate the value and the result, not the subtleties of the process. Simplification is the future.
Visualization. Users become less and less interested in reading because it takes longer to process text.

Charts, tables, infographics, and videos

will help you to hold the attention.
Building relationships. Faceless organizations are not fit for 2022. Human connection has become more valuable, which is why companies tend to show their specialists and clients, collaborate with bloggers. It is easier to build a relationship when there is a person on the other end.
Examples of Successful Development Teams: What They Did Right
Goji Labs is the highest-ranked development studio. Here is what helped the company achieve these impressive results: a simple and compelling website, a helpful blog, and high rankings on field-specific platforms.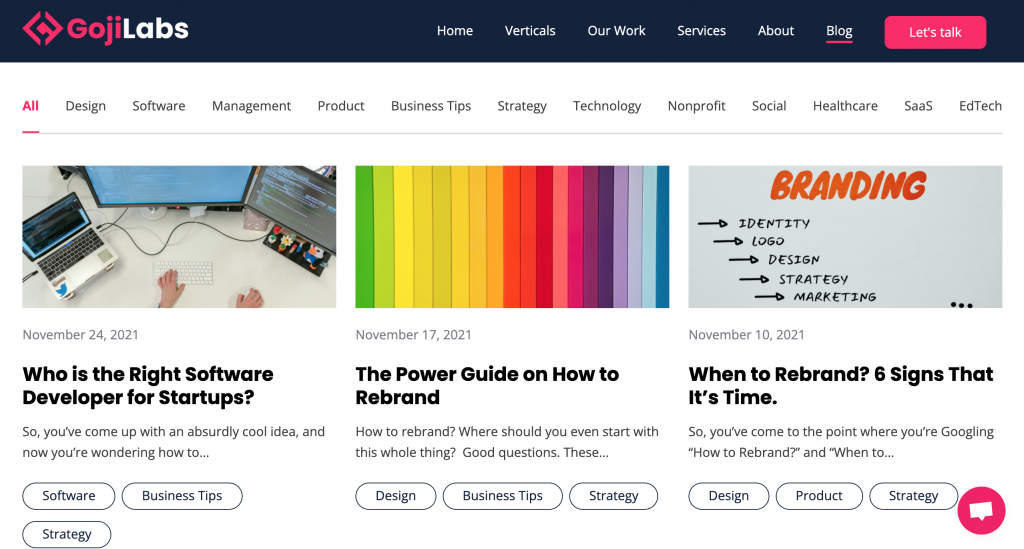 Goji's closest competitor, Miquido, also boasts a well-made website with social proof, such as reviews, past projects, partner logos, as well as interesting content – both on the website and in the media. The brand also has a blog on Medium.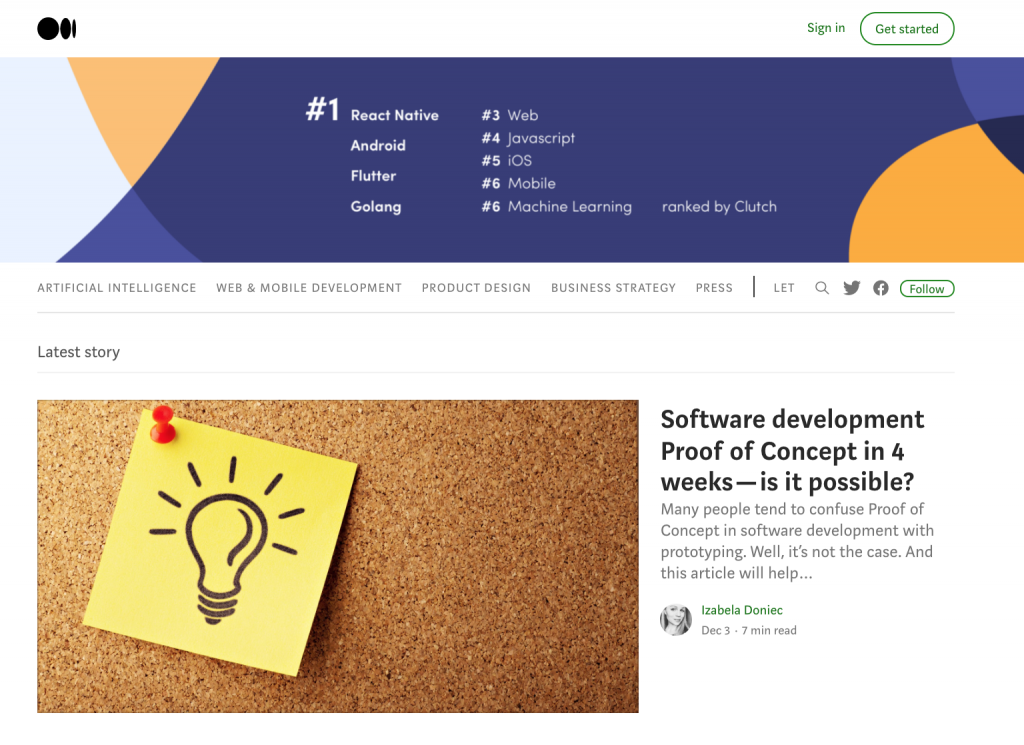 Sidebench relies on guest posting in major business publications: Forbes, Entrepreneur, Inc., and others. They also update their own blog, where they share expert knowledge and talk about their team.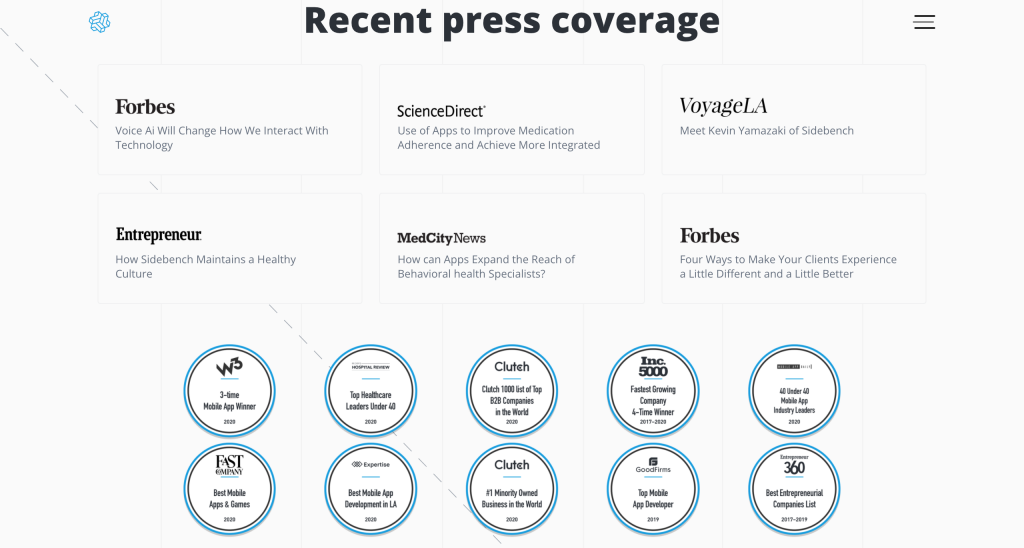 Jelvix runs a great YouTube channel – Tech In 5 Minutes. The channel talks about technologies, the development market, and their own experience. These guys also have a professional-looking website and a corporate blog.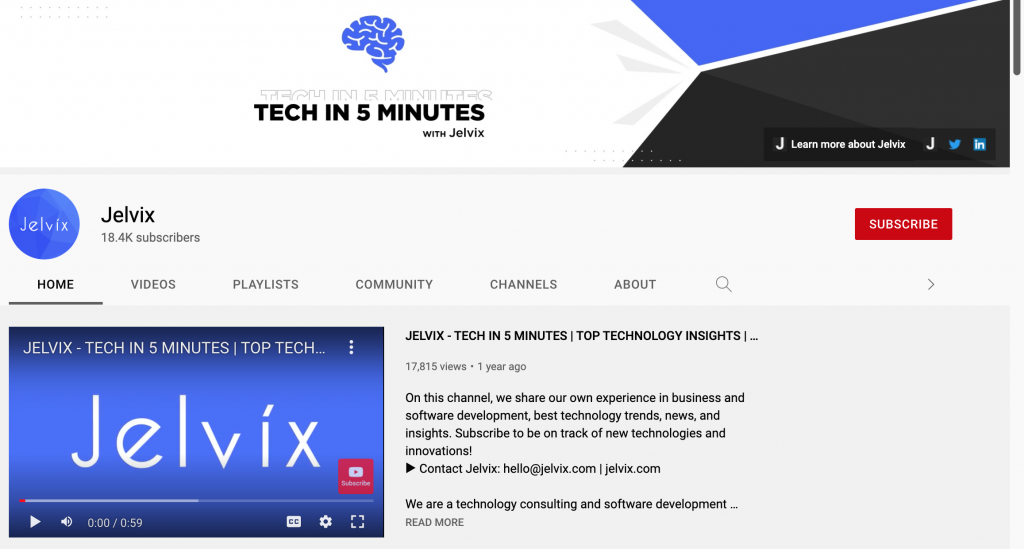 Summary: Marketing Plan For an IT Company
The demand for IT services is growing faster than the supply. However, if you want to create a constant flow of customers, you need to present your services competently and do proper promotion.
Remote development teams and agencies can use the following strategies:
Contextual advertising in search engines
SEO website promotion
Social media posts and ads
Content marketing
Catalogs, business review websites, ratings
Email marketing
Crowd marketing